Chevrolet Sonic: Dinghy Towing All except RS Model with Automatic Transmission
Chevrolet Sonic Owners Manual
When dinghy towing a vehicle with an automatic transmission, the vehicle should be run at the beginning of each day and at each RV fuel stop for about five minutes. This will ensure proper lubrication of transmission components.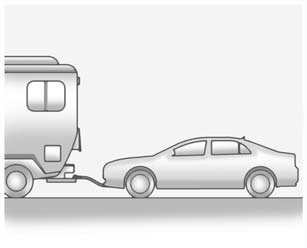 To dinghy tow the vehicle from the front with all four wheels on the ground:
1. Position the vehicle to tow and then secure it to the towing vehicle.
2. Shift the automatic transmission to P (Park) or a manual transmission into 1 (First) gear and turn the ignition to LOCK/OFF.
3. Set the parking brake.
4. To prevent the battery from draining while the vehicle is being towed, remove the following fuse from the instrument panel fuse block: (DLIS). See Instrument Panel Fuse Block for more information.
5. Turn the ignition to ACC/ ACCESSORY.
6. Shift the automatic transmission to N (Neutral) or a manual transmission to Neutral.
7. Release the parking brake.
Remember to reinstall the DLIS fuse once the destination has been reached.
Caution
If 105 km/h (65 mph) is exceeded while towing the vehicle, it could be damaged. Never exceed 105 km/h (65 mph) while towing the vehicle.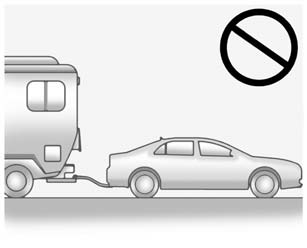 Caution
Towing the vehicle from the rear could damage it. Also, repairs would not be covered by the vehicle warranty. Never have the vehicle towed from the rear.
Other info:
Nissan Micra. Air flow charts
The following charts show the button and dial positions for MAXIMUM AND QUICK heating, cooling or defrosting. The air intake lever should always be in the position for heating and defrosting. ...
Seat Ibiza. Care of the vehicle exterior
Automatic car washes The paint is so durable that the car can normally be washed without problems in an automatic car wash. However, the effect on the paint depends to a large extent on the desig ...