Chevrolet Sonic: Front Wiper Blade Replacement
Chevrolet Sonic Owners Manual
Windshield wiper blades should be inspected for wear or cracking. See the Maintenance Schedule for more information.
Replacement blades come in different types and are removed in different ways. For proper windshield wiper blade length and type, see Maintenance Replacement Parts.
Caution
Allowing the wiper arm to touch the windshield when no wiper blade is installed could damage the windshield. Any damage that occurs would not be covered by your warranty. Do not allow the wiper arm to touch the windshield.
To replace the windshield wiper blade:
1. Pull the windshield wiper assembly away from the windshield.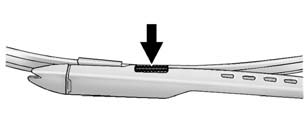 2. Squeeze the tabs on each side of the wiper blade assembly and slide the assembly off the end of the wiper arm.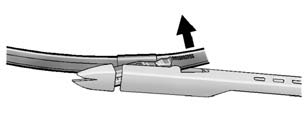 3. Install the new blade onto the arm and make sure the tabs are fully set in the locked position.
4. Repeat the steps for the other wiper.
Other info:
Skoda Fabia. Changing a wheel
WARNING If you are in flowing traffic, switch on the hazard warning lights and set up the warning triangle at the prescribed distance. National legal requirements must be observed. Par ...
Renault Clio. Five-door version
Side lights/brake and direction indicator lights Open the boot lid and remove screws 1. The bulbs are under pressure and can break when replaced. Risk of injury. To re ...
Honda Fit. Fuel Information
■ Fuel recomme Unleaded gasoline, pump octane number 87 or higher Use of lower octane gasoline can cause a persistent, heavy metallic knocking noise that can lead to engine damage. ■ ...