Chevrolet Sonic: Front Wiper Blade Replacement
Chevrolet Sonic Owners Manual
Windshield wiper blades should be inspected for wear or cracking. See the Maintenance Schedule for more information.
Replacement blades come in different types and are removed in different ways. For proper windshield wiper blade length and type, see Maintenance Replacement Parts.
Caution
Allowing the wiper arm to touch the windshield when no wiper blade is installed could damage the windshield. Any damage that occurs would not be covered by your warranty. Do not allow the wiper arm to touch the windshield.
To replace the windshield wiper blade:
1. Pull the windshield wiper assembly away from the windshield.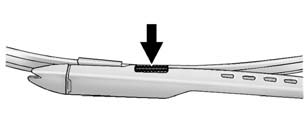 2. Squeeze the tabs on each side of the wiper blade assembly and slide the assembly off the end of the wiper arm.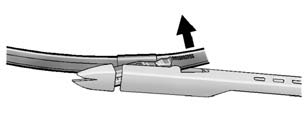 3. Install the new blade onto the arm and make sure the tabs are fully set in the locked position.
4. Repeat the steps for the other wiper.
Other info:
Honda Fit. Immobilizer System
The immobilizer system prevents a key that has not been pre-registered from starting the engine. Each key contains electronic transmitters that use electronic signals to verify the key. Pay att ...
Mazda 2. Steering Wheel
WARNING Never adjust the steering wheel while the vehicle is moving: Adjusting the steering wheel while the vehicle is moving is dangerous. Moving it can very easily cause the driver to abruptly ...
Mazda 2. Audio Set (Type C/Type D)
NOTE The explanation of functions described in this manual may differ from the actual operation, and the shapes of screens and buttons and the letters and characters displayed may also differ fro ...