Chevrolet Sonic: Front Wiper Blade Replacement
Chevrolet Sonic Owners Manual
Windshield wiper blades should be inspected for wear or cracking. See the Maintenance Schedule for more information.
Replacement blades come in different types and are removed in different ways. For proper windshield wiper blade length and type, see Maintenance Replacement Parts.
Caution
Allowing the wiper arm to touch the windshield when no wiper blade is installed could damage the windshield. Any damage that occurs would not be covered by your warranty. Do not allow the wiper arm to touch the windshield.
To replace the windshield wiper blade:
1. Pull the windshield wiper assembly away from the windshield.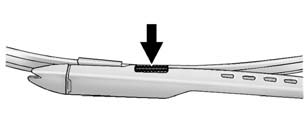 2. Squeeze the tabs on each side of the wiper blade assembly and slide the assembly off the end of the wiper arm.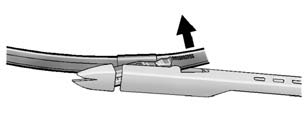 3. Install the new blade onto the arm and make sure the tabs are fully set in the locked position.
4. Repeat the steps for the other wiper.
Other info:
Nissan Micra. Radio
Place the ignition switch in the ACC or ON position and press the (power) button / PWR (button) to turn the radio on. If you listen to the radio with the engine not running, the ignition switch ...
Peugeot 208. Active matrix instrument panel
Dials and screens 1. Engine coolant temperature gauge. 2. Rev counter (x 1 000 rpm or tr/min), graduation according to engine (petrol or Diesel). 3. Cruise control or speed limiter settings. 4 ...
Honda Fit. Headlight Bulbs
When replacing, use the following bulbs. High/Low beam headlight: 60/55 W (HB2) NOTICE Halogen bulbs get very hot when lit. Oil, perspiration, or a scratch on the glass can cause the bulb to ov ...