Chevrolet Sonic: Front Wiper Blade Replacement
Chevrolet Sonic Owners Manual
Windshield wiper blades should be inspected for wear or cracking. See the Maintenance Schedule for more information.
Replacement blades come in different types and are removed in different ways. For proper windshield wiper blade length and type, see Maintenance Replacement Parts.
Caution
Allowing the wiper arm to touch the windshield when no wiper blade is installed could damage the windshield. Any damage that occurs would not be covered by your warranty. Do not allow the wiper arm to touch the windshield.
To replace the windshield wiper blade:
1. Pull the windshield wiper assembly away from the windshield.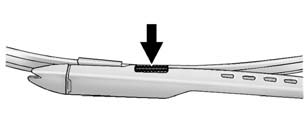 2. Squeeze the tabs on each side of the wiper blade assembly and slide the assembly off the end of the wiper arm.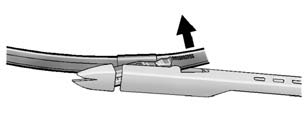 3. Install the new blade onto the arm and make sure the tabs are fully set in the locked position.
4. Repeat the steps for the other wiper.
Other info:
Skoda Fabia. Towing the vehicle
Vehicles with manual transmission may be towed in with a tow bar or a tow rope or with the front or rear wheels raised. Vehicles with automatic transmission may be towed in with a tow bar or a tow ...
Peugeot 208. Child seat in the front
"Rearwards-facing" When a "rearwards-facing" child seat is installed on the front passenger seat, it is essential that the passenger airbag is deactivated. Otherwise, the chil ...
Honda Fit. Changing the Rear Wiper Blade Rubber
1. Raise the wiper arm off. 2. Pivot up the bottom end of the wiper blade until it comes off from the wiper arm. 3. Slide the wiper blade out from the end with the indent. NOTICE Avoid dro ...