Chevrolet Sonic: Headlamps, Front Turn Signal and Parking Lamps
Chevrolet Sonic Owners Manual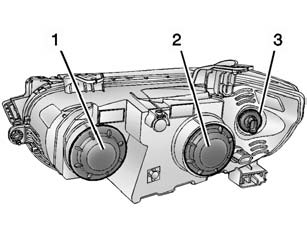 Passenger Side Shown, Driver Side Similar
1. High-Beam Headlamp 2. Low-Beam Headlamp
3. Parking/Turn Signal Lamps
Other info:
Chevrolet Sonic. Daytime Running Lamps (DRL)
DRL can make it easier for others to see the front of your vehicle during the day. Fully functional DRL are required on all vehicles first sold in Canada. This indicator light turns on in the ins ...
Nissan Micra. Interior light
The interior light has a three-position switch and operates regardless of ignition switch position. When the switch is in the ON position 3 , the interior lights illuminate, regardless of doo ...