Chevrolet Sonic: Hood
Chevrolet Sonic Owners Manual
To open the hood: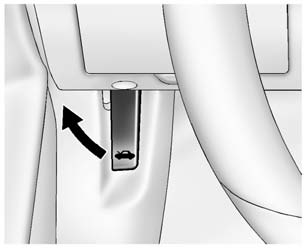 1. Pull the hood release handle inside the vehicle. It is located on the lower left side of the instrument panel.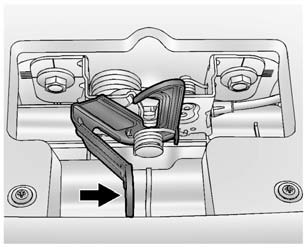 2. Go to the front of the vehicle and move the secondary hood release lever toward the right side of the vehicle.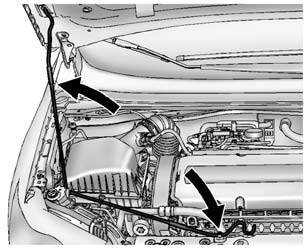 3. Lift the hood and release the hood prop from its retainer, located in front of the engine compartment. Securely place the hood prop into the slot on the underside of the hood.
To close the hood:
1. Before closing the hood, be sure all filler caps are on properly. Then, lift the hood to relieve pressure on the hood prop. Remove the hood prop from the slot in the underside of the hood and return the prop to its retainer. The prop rod must click into place when returning it to the retainer to prevent hood damage.
2. Lower the hood 30 cm (12 in) above the vehicle and release it so it fully latches. Check to make sure the hood is closed and repeat the process if necessary.
Other info:
Mazda 2. Spare Tyre and Tool Storage
Spare tyre and tools are stored in the locations illustrated in the diagram. *1 The jack point attachment can be used by vehicle repair shops and road assistance services. Consult an Authori ...
Seat Ibiza. Belt tension devices
Function of the belt tension device During a frontal collision, the seat belts on the front seats are retracted automatically. The seat belts for the front occupants are equipped with belt tension ...
Renault Clio. Display A
To access display 1 for setting the time, press button 2 or 3. Wait for a few seconds. The hours and minutes flash and you are now in setting mode; press and hold button 2 or 3 to set the ho ...