Chevrolet Sonic: Ignition Positions
Chevrolet Sonic Owners Manual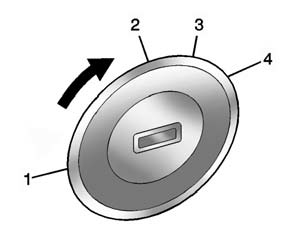 The ignition switch has four different positions.
To shift out of P (Park), the ignition must be in ON/RUN and the regular brake pedal applied.
1 (STOPPING THE ENGINE/LOCK/ OFF): When the vehicle is stopped, turn the ignition switch to LOCK/ OFF to turn the engine off.
This position locks the steering wheel, ignition, and transmission.
Do not turn the engine off when the vehicle is moving. This will cause a loss of power assist in the brake and steering systems and disable the airbags.
If the vehicle must be shut off in an emergency:
1. Brake using a firm and steady pressure. Do not pump the brakes repeatedly. This may deplete power assist, requiring increased brake pedal force.
2. Shift the vehicle to N (Neutral). This can be done while the vehicle is moving. After shifting to N (Neutral), firmly apply the brakes and steer the vehicle to a safe location.
3. Come to a complete stop. Shift to P (Park) with an automatic transmission, or Neutral with a manual transmission. Turn the ignition to LOCK/OFF.
4. Set the parking brake. See Parking Brake.
Warning
Turning off the vehicle while moving may cause loss of power assist in the brake and steering systems and disable the airbags. While driving, only shut the vehicle off in an emergency.
If the vehicle cannot be pulled over, and must be shut off while driving, turn the ignition to ACC/ ACCESSORY.
Caution
Using a tool to force the key to turn in the ignition could cause damage to the switch or break the key. Use the correct key, make sure it is all the way in, and turn it only with your hand. If the key cannot be turned by hand, see your dealer.
2 (ACC/ACCESSORY): This is the position in which things like the radio and the windshield wipers can be operated when the engine is off.
3 (ON/RUN): This position can be used to operate the electrical accessories and to display some instrument cluster warning and indicator lights. This position can also be used for service and diagnostics, and to verify the proper operation of the malfunction indicator lamp as may be required for emission inspection purposes. The switch stays in this position when the engine is running. If you leave the key in the ACC/ ACCESSORY or ON/RUN position with the engine off, the battery could be drained. You may not be able to start the vehicle if the battery is allowed to drain for an extended period of time.
4 (START): This is the position that starts the engine. When the engine starts, release the key. The ignition switch returns to ON/RUN for driving.
A warning tone will sound when the driver door is opened, the ignition is in ACC/ACCESSORY or LOCK/ OFF, and the key is in the ignition. If the ignition becomes difficult to turn, see Keys.