Chevrolet Sonic: Maintenance
Chevrolet Sonic Owners Manual
Air Intake
Clear away any ice, snow, or leaves from the air intake at the base of the windshield that can block the flow of air into the vehicle.
Passenger Compartment Air Filter
The filter removes dust, pollen, and other airborne irritants from outside air that is pulled into the vehicle.
The filter should be replaced as part of routine scheduled maintenance. See Maintenance Schedule. To find out what type of filter to use, see Maintenance Replacement Parts.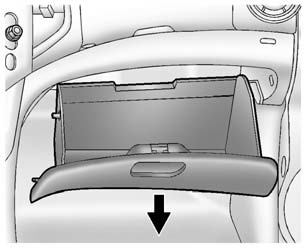 1. Open the glove box completely and pull it to remove.
2. Remove the filter cover by unscrewing both sides of the cover.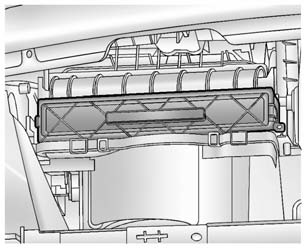 3. Install the new air filter.
4. Reinstall the air filter cover and glove box in reverse order.
See your dealer if additional assistance is needed.
Other info:
Chevrolet Sonic. What to Use
Warning Adding only plain water or some other liquid to the cooling system can be dangerous. Plain water and other liquids, can boil before the proper coolant mixture will. The coolant warning sy ...
Chevrolet Sonic. Finish Care
Application of aftermarket clearcoat sealant/wax materials is not recommended. If painted surfaces are damaged, see your dealer to have the damage assessed and repaired. Foreign materials such as ...