Chevrolet Sonic: Off-Road Recovery
Chevrolet Sonic Owners Manual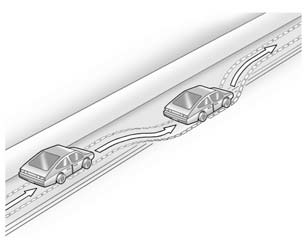 The vehicle's right wheels can drop off the edge of a road onto the shoulder while driving. Follow these tips:
1. Ease off the accelerator and then, if there is nothing in the way, steer the vehicle so that it straddles the edge of the pavement.
2. Turn the steering wheel about one-eighth of a turn, until the right front tire contacts the pavement edge.
3. Turn the steering wheel to go straight down the roadway.
Other info:
Chevrolet Sonic. Older Children
Older children who have outgrown booster seats should wear the vehicle safety belts. The manufacturer instructions that come with the booster seat state the weight and height limitations for th ...
Chevrolet Sonic. Removing the Flat Tire and Installing the Spare Tire
1. Do a safety check before proceeding. See If a Tire Goes Flat. 2. Remove the wheel cover, if the vehicle has one, to reach the wheel bolts. 3. Turn the wheel nuts counterclockwise to loosen th ...