Chevrolet Sonic: Parking Brake
Chevrolet Sonic Owners Manual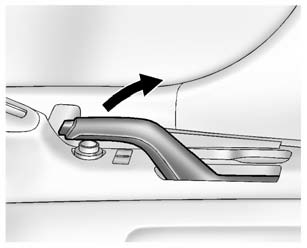 To set the parking brake, hold the brake pedal down and pull up on the parking brake lever. If the ignition is on, the brake system warning light will come on. See Brake System Warning Light.
To release the parking brake, hold the brake pedal down. Pull the parking brake lever up until you can press the release button. Hold the release button in as you move the brake lever all the way down.
Caution
Driving with the parking brake on can overheat the brake system and cause premature wear or damage to brake system parts. Make sure that the parking brake is fully released and the brake warning light is off before driving.
Other info:
Peugeot 208. Failure of the remote control
To deactivate the monitoring functions: Unlock the vehicle using the key in the driver's door lock. Open the door; the alarm is triggered. Switch on the ignition; the alarm stops. The indi ...
Chevrolet Sonic. Recreational Vehicle Towing
Recreational vehicle towing means towing the vehicle behind another vehicle, such as a motor home. The two most common types of recreational vehicle towing are known as dinghy towing and dolly tow ...
Chevrolet Sonic. Driving on Wet Roads
Rain and wet roads can reduce vehicle traction and affect your ability to stop and accelerate. Always drive slower in these types of driving conditions and avoid driving through large puddles and ...