Chevrolet Sonic: Rear Seats
Chevrolet Sonic Owners Manual
Folding the Seatback
Either side of the seatback can be folded down for more cargo space. Fold a seatback only when the vehicle is not moving.
Caution
Folding a rear seat with the safety belts still fastened may cause damage to the seat or the safety belts. Always unbuckle the safety belts and return them to their normal stowed position before folding a rear seat.
To fold the seatback down: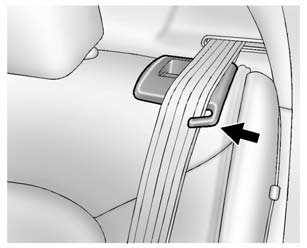 1. Make sure the safety belt is in the retainer hook.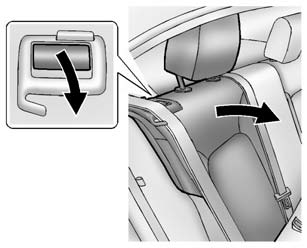 Sedan Shown, Hatchback Similar
2. Reach under the belt and pull the lever on top of the seatback to unlock the seatback.
A tab near the seatback lever raises when the seatback is unlocked.
3. Fold the seatback down.
Repeat Steps 1–3 for the other seatback, if desired.
Raising the Seatback
Warning
If either seatback is not locked, it could move forward in a sudden stop or crash. That could cause injury to the person sitting there. Always push and pull on the seatbacks to be sure they are locked.
Warning
A safety belt that is improperly routed, not properly attached, or twisted will not provide the protection needed in a crash. The person wearing the belt could be seriously injured. After raising the rear seatback, always check to be sure that the safety belts are properly routed and attached, and are not twisted.
To raise a seatback:
1. Lift the seatback up and push it rearward to lock it in place. Make sure the safety belt is in the retainer hook and is not twisted or caught in the seatback.
A tab near the seatback lever retracts when the seatback is locked in place.
The center rear safety belt may lock when you raise the seatback. If this happens, let the belt go back all the way and start again.
2. Push and pull the top of the seatback to be sure it is locked into position.
3. Repeat Steps 1 and 2 for the other seatback, if necessary.
When the seat is not in use, it should be kept in the upright, locked position.
Other info:
Peugeot 208. Coolant level
The coolant level should be close to the "MAX" mark but should never exceed it. When the engine is warm, the temperature of the coolant is regulated by the fan. This can operate with th ...
Chevrolet Sonic. Safety Belt Extender
If the vehicle's safety belt will fasten around you, you should use it. But if a safety belt is not long enough, your dealer will order you an extender. When you go in to order it, take the heavies ...