Chevrolet Sonic: Reclining Seatbacks
Chevrolet Sonic Owners Manual
Warning
If either seatback is not locked, it could move forward in a sudden stop or crash. That could cause injury to the person sitting there. Always push and pull on the seatbacks to be sure they are locked.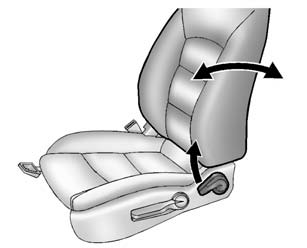 To recline a manual seatback:
1. Lift the lever.
If necessary, move the safety belt out of the way to access the lever.
2. Move the seatback to the desired position, and then release the lever to lock the seatback in place.
3. Push and pull on the seatback to make sure it is locked in place.
To return the seatback to the upright position:
1. Lift the lever fully without applying pressure to the seatback, and the seatback will return to the upright position.
2. Push and pull on the seatback to make sure it is locked.
Warning
Sitting in a reclined position when the vehicle is in motion can be dangerous. Even when buckled up, the safety belts cannot do their job.
The shoulder belt will not be against your body. Instead, it will be in front of you. In a crash, you could go into it, receiving neck or other injuries.
The lap belt could go up over your abdomen. The belt forces would be there, not at your pelvic bones. This could cause serious internal injuries.
For proper protection when the vehicle is in motion, have the seatback upright. Then sit well back in the seat and wear the safety belt properly.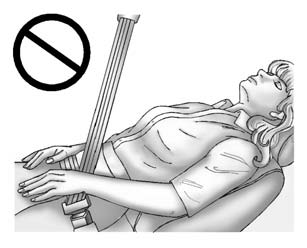 Do not have a seatback reclined if the vehicle is moving.
Other info:
Ford Fiesta. Instrument Cluster
Gauges Tachometer Information display and engine coolant temperature gauge Speedometer Fuel gauge Tripmeter reset button Compass (If Equipped) Displays the vehicle's heading direction. To cal ...
Peugeot 208. Fuses under the bonnet
The fusebox is placed in the engine compartment near the battery (left-hand side). Access to the fuses Unclip the cover. Change the fuse (see corresponding paragraph). When you have finishe ...
Chevrolet Sonic. Interior Care
To prevent dirt particle abrasions, regularly clean the vehicle's interior. Immediately remove any soils. Note that newspapers or dark garments that can transfer color to home furnishings can also ...