Chevrolet Sonic: Reclining Seatbacks
Chevrolet Sonic Owners Manual
Warning
If either seatback is not locked, it could move forward in a sudden stop or crash. That could cause injury to the person sitting there. Always push and pull on the seatbacks to be sure they are locked.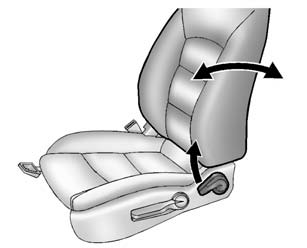 To recline a manual seatback:
1. Lift the lever.
If necessary, move the safety belt out of the way to access the lever.
2. Move the seatback to the desired position, and then release the lever to lock the seatback in place.
3. Push and pull on the seatback to make sure it is locked in place.
To return the seatback to the upright position:
1. Lift the lever fully without applying pressure to the seatback, and the seatback will return to the upright position.
2. Push and pull on the seatback to make sure it is locked.
Warning
Sitting in a reclined position when the vehicle is in motion can be dangerous. Even when buckled up, the safety belts cannot do their job.
The shoulder belt will not be against your body. Instead, it will be in front of you. In a crash, you could go into it, receiving neck or other injuries.
The lap belt could go up over your abdomen. The belt forces would be there, not at your pelvic bones. This could cause serious internal injuries.
For proper protection when the vehicle is in motion, have the seatback upright. Then sit well back in the seat and wear the safety belt properly.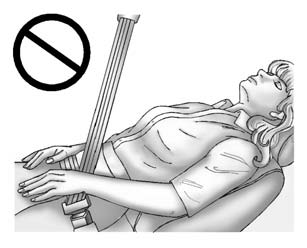 Do not have a seatback reclined if the vehicle is moving.
Other info:
Chevrolet Sonic. Uniform Tire Quality Grading
Quality grades can be found where applicable on the tire sidewall between tread shoulder and maximum section width. For example: Treadwear 200 Traction AA Temperature A The following information r ...
Fiat Punto. Parking
Proceed as follows: Stop the engine and engage the handbrake; Engage a gear (first if the car is faced uphill or reverse if it is faced downhill) and leave the wheels steered. Block the w ...
Peugeot 208. Folding the backrest
Move the front seats forward if necessary. Position the seat belts on the backrest and buckle them. Place the head restraints in the low position. Press both controls 1 simultaneously ...