Chevrolet Sonic: Selecting the Alert Timing
Chevrolet Sonic Owners Manual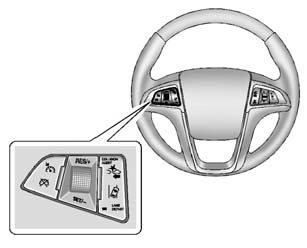 The Collision Alert control is on the steering wheel. Press COLLISION ALERT to set the alert timing to far, medium, near or off. The first button press shows the current control setting on the DIC. Additional button presses will change this setting. The chosen setting will remain until it is changed and will affect both the Collision Alert and the Tailgating Alert features. The timing of both alerts will vary based on vehicle speed. The faster the vehicle speed, the further away the alert will occur. Consider traffic and weather conditions when selecting the alert timing. The range of selectable alert timing may not be appropriate for all drivers and driving conditions.
Other info:
Peugeot 208. Deadlocking
Deadlocking renders the exterior and interior door controls inoperative. It also deactivates the manual central control button. Therefore, never leave anyone inside the vehicle when it is deadlocke ...
Chevrolet Sonic. Ignition Positions
The ignition switch has four different positions. To shift out of P (Park), the ignition must be in ON/RUN and the regular brake pedal applied. 1 (STOPPING THE ENGINE/LOCK/ OFF): When the vehicl ...