Chevrolet Sonic: Steering Wheel Controls
Chevrolet Sonic Owners Manual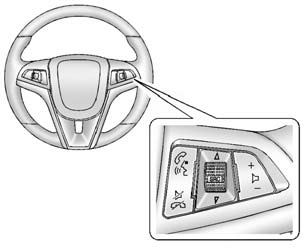 Some audio steering wheel controls could differ depending on the vehicle's options. Some audio controls can be adjusted at the steering wheel.

/


(Push to Talk): For
vehicles with Bluetooth or OnStar, press to interact with those systems. See Bluetooth (Voice Recognition) or Bluetooth (Overview) or Bluetooth (Infotainment Controls) or OnStar Overview.

/


(Mute/End Call): Press to reject an
incoming call, or end a current call. Press to silence the vehicle speakers while using the infotainment system. Press again to turn the sound on.
For vehicles with OnStar or Bluetooth systems, press to reject an incoming call, or end a current call.

SRC


(Source): Press to select an audio
source.
Use to toggle up or down to select the next or previous favorite radio station or CD/MP3 track.

(Volume): Press + or − to increase
or decrease the volume.
Other info:
Chevrolet Sonic. Tire Sealant and Compressor Kit
Warning Idling a vehicle in an enclosed area with poor ventilation is dangerous. Engine exhaust may enter the vehicle. Engine exhaust contains carbon monoxide (CO) which cannot be seen or smelled ...
Chevrolet Sonic. System Settings
Auto Volume This feature automatically adjusts the radio volume to compensate for road and wind noise. The level of volume compensation can be selected, or the feature can be turned off. 1. Pre ...
Peugeot 208. Moving off
Apply the parking brake. Select position P or N. Start the engine. If this procedure is not followed, there is an audible signal, accompanied by the display of an warning message. With ...