Chevrolet Sonic: Steering Wheel Controls
Chevrolet Sonic Owners Manual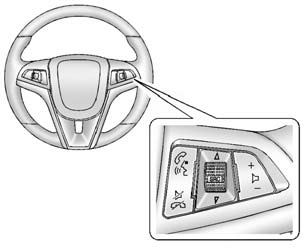 Some audio steering wheel controls could differ depending on the vehicle's options. Some audio controls can be adjusted at the steering wheel.

/


(Push to Talk): For
vehicles with Bluetooth or OnStar, press to interact with those systems. See Bluetooth (Voice Recognition) or Bluetooth (Overview) or Bluetooth (Infotainment Controls) or OnStar Overview.

/


(Mute/End Call): Press to reject an
incoming call, or end a current call. Press to silence the vehicle speakers while using the infotainment system. Press again to turn the sound on.
For vehicles with OnStar or Bluetooth systems, press to reject an incoming call, or end a current call.

SRC


(Source): Press to select an audio
source.
Use to toggle up or down to select the next or previous favorite radio station or CD/MP3 track.

(Volume): Press + or − to increase
or decrease the volume.
Other info:
Chevrolet Sonic. Trunk Release
To lock or unlock the trunk from the inside, press or on the central locking switch or on the driver door switch. To open the trunk from inside the vehicle press . To lock the trunk from ...
Seat Ibiza. Diesel engine 1.4 litre TDI 59 kW (80 bhp)
General engine data a) Cetane-Number (cetane index) = Measure of the combustion power of the diesel Performance figures Weights Trailer weights Engine oil capacity ...
Honda Fit. Auxiliary Input Jack
Use the jack to connect standard audio devices. 1. Open the AUX cover. 2. Connect a standard audio device to the input jack using a 1/8 inch (3.5 mm) stereo miniplug. ► The audio system a ...