Chevrolet Sonic: Steering Wheel Controls
Chevrolet Sonic Owners Manual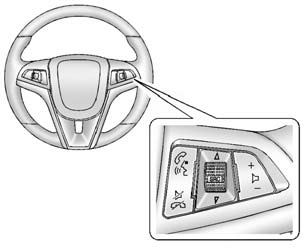 Some audio steering wheel controls could differ depending on the vehicle's options. Some audio controls can be adjusted at the steering wheel.

/


(Push to Talk): For
vehicles with Bluetooth or OnStar, press to interact with those systems. See Bluetooth (Voice Recognition) or Bluetooth (Overview) or Bluetooth (Infotainment Controls) or OnStar Overview.

/


(Mute/End Call): Press to reject an
incoming call, or end a current call. Press to silence the vehicle speakers while using the infotainment system. Press again to turn the sound on.
For vehicles with OnStar or Bluetooth systems, press to reject an incoming call, or end a current call.

SRC


(Source): Press to select an audio
source.
Use to toggle up or down to select the next or previous favorite radio station or CD/MP3 track.

(Volume): Press + or − to increase
or decrease the volume.
Other info:
Mazda 2. Drive Selection
Drive selection is a system to switch the vehicle's drive mode. When the sport mode is selected, vehicle's response against accelerator operation is enhanced. Use the sport mode when higher vehi ...
Mazda 2. Window and Headlight Washer Fluid
Inspecting Washer Fluid Level WARNING Use only windscreen washer fl uid or plain water in the reservoir: Using radiator antifreeze as washer fl uid is dangerous. If sprayed on the windscreen, it ...