Chevrolet Sonic: Steering Wheel Controls
Chevrolet Sonic Owners Manual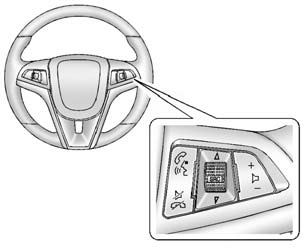 Some audio steering wheel controls could differ depending on the vehicle's options. Some audio controls can be adjusted at the steering wheel.

/


(Push to Talk): For
vehicles with Bluetooth or OnStar, press to interact with those systems. See Bluetooth (Voice Recognition) or Bluetooth (Overview) or Bluetooth (Infotainment Controls) or OnStar Overview.

/


(Mute/End Call): Press to reject an
incoming call, or end a current call. Press to silence the vehicle speakers while using the infotainment system. Press again to turn the sound on.
For vehicles with OnStar or Bluetooth systems, press to reject an incoming call, or end a current call.

SRC


(Source): Press to select an audio
source.
Use to toggle up or down to select the next or previous favorite radio station or CD/MP3 track.

(Volume): Press + or − to increase
or decrease the volume.
Other info:
Mazda 2. Hazard Warning Flasher
The hazard warning lights should always be used when you stop on or near a roadway in an emergency. The hazard warning lights warn other drivers that your vehicle is a traffi c hazard and tha ...
Peugeot 208. Advice on care and maintenance
Recommendations on the care and maintenance your vehicle are given in the servicing booklet. Matt paint If you vehicle is finished with a clear matt lacquer, please observe the following recomme ...
Renault Clio. Boot storage
Mobile floor When fitted to the vehicle, it can be used to make loading easier. Note: if you need to access the ISOFIX ring and/or the net ring at the bottom of the boot, open flap 3. ...