Chevrolet Sonic: Steering Wheel Controls
Chevrolet Sonic Owners Manual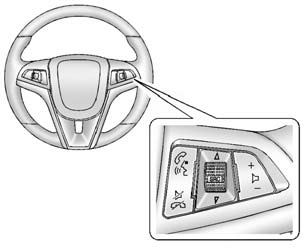 Some audio steering wheel controls could differ depending on the vehicle's options. Some audio controls can be adjusted at the steering wheel.

/


(Push to Talk): For
vehicles with Bluetooth or OnStar, press to interact with those systems. See Bluetooth (Voice Recognition) or Bluetooth (Overview) or Bluetooth (Infotainment Controls) or OnStar Overview.

/


(Mute/End Call): Press to reject an
incoming call, or end a current call. Press to silence the vehicle speakers while using the infotainment system. Press again to turn the sound on.
For vehicles with OnStar or Bluetooth systems, press to reject an incoming call, or end a current call.

SRC


(Source): Press to select an audio
source.
Use to toggle up or down to select the next or previous favorite radio station or CD/MP3 track.

(Volume): Press + or − to increase
or decrease the volume.
Other info:
Mazda 2. Fuel Economy Monitor
For vehicles with type C/type D audio, the Control Status, Fuel Consumption, and Effectiveness are switched and displayed by operating each icon in the display. In addition, after completing a t ...
Citroen C3. Towing the vehicle
Procedure for having your vehicle towed or for towing another vehicle using a removable towing eye. Access to the tools The towing eye is installed in the boot under the fl oor. To gain acc ...
Seat Ibiza. Checking fluid levels
From time to time, the levels of the different fluids in the vehicle must be checked. Never fill with incorrect fluids, to do so may cause serious damage to the engine. Fig. 177 Diagram for the ...