Chevrolet Sonic: Tire Designations
Chevrolet Sonic Owners Manual
Tire Size
The following is an example of a typical passenger vehicle tire size.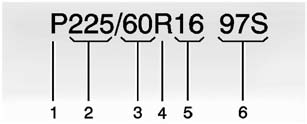 (1) Passenger (P-Metric) Tire: The United States version of a metric tire sizing system. The letter P as the first character in the tire size means a passenger vehicle tire engineered to standards set by the U.S. Tire and Rim Association.
(2) Tire Width: The three-digit number indicates the tire section width in millimeters from sidewall to sidewall.
(3) Aspect Ratio: A two-digit number that indicates the tire height-to-width measurements. For example, if the tire size aspect ratio is 60, as shown in item 3 of the illustration, it would mean that the tire's sidewall is 60 percent as high as it is wide.
(4) Construction Code: A letter code is used to indicate the type of ply construction in the tire. The letter R means radial ply construction; the letter D means diagonal or bias ply construction; and the letter B means belted-bias ply construction.
(5) Rim Diameter: Diameter of the wheel in inches.
(6) Service Description: These characters represent the load index and speed rating of the tire. The load index represents the load carrying capacity a tire is certified to carry. The speed rating is the maximum speed a tire is certified to carry a load.
Other info:
Chevrolet Sonic. Fuel Gauge
The fuel gauge indicates about how much fuel is left when the ignition is turned to ON/RUN. When the tank nears empty, the low fuel warning light will come on. There is still a little fuel left ...
Chevrolet Sonic. Floor Mats
Warning If a floor mat is the wrong size or is not properly installed, it can interfere with the pedals. Interference with the pedals can cause unintended acceleration and/or increased stopping d ...
Peugeot 208. Reinitialisation of the electric windows
Following reconnection of the battery, the safety anti-pinch function must be reinitialised. The safety anti-pinch is not active during these operations: - lower the window completely, then raise i ...