Chevrolet Sonic: Tire Designations
Chevrolet Sonic Owners Manual
Tire Size
The following is an example of a typical passenger vehicle tire size.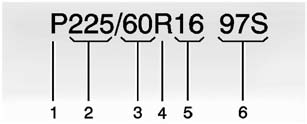 (1) Passenger (P-Metric) Tire: The United States version of a metric tire sizing system. The letter P as the first character in the tire size means a passenger vehicle tire engineered to standards set by the U.S. Tire and Rim Association.
(2) Tire Width: The three-digit number indicates the tire section width in millimeters from sidewall to sidewall.
(3) Aspect Ratio: A two-digit number that indicates the tire height-to-width measurements. For example, if the tire size aspect ratio is 60, as shown in item 3 of the illustration, it would mean that the tire's sidewall is 60 percent as high as it is wide.
(4) Construction Code: A letter code is used to indicate the type of ply construction in the tire. The letter R means radial ply construction; the letter D means diagonal or bias ply construction; and the letter B means belted-bias ply construction.
(5) Rim Diameter: Diameter of the wheel in inches.
(6) Service Description: These characters represent the load index and speed rating of the tire. The load index represents the load carrying capacity a tire is certified to carry. The speed rating is the maximum speed a tire is certified to carry a load.
Other info:
Citroen C3. Doors
Opening From outside After unlocking the vehicle using the remote control or the key, pull the door handle. From inside Pull on the front door control to open the door; this unlocks ...
Peugeot 208. Touch screen
Press MENU to display the MAIN MENU then select " Settings". Select "System configuration". Select "Date & Time". Select the date or time displayed, ...
Peugeot 208. Definitions
Anti-lock braking system (ABS) and electronic brake force distribution (EBFD) This system improves the stability and manoeuvrability of your vehicle when braking and provides improved control in co ...