Chevrolet Sonic: Tire Designations
Chevrolet Sonic Owners Manual
Tire Size
The following is an example of a typical passenger vehicle tire size.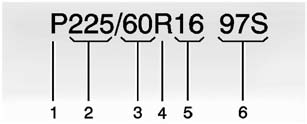 (1) Passenger (P-Metric) Tire: The United States version of a metric tire sizing system. The letter P as the first character in the tire size means a passenger vehicle tire engineered to standards set by the U.S. Tire and Rim Association.
(2) Tire Width: The three-digit number indicates the tire section width in millimeters from sidewall to sidewall.
(3) Aspect Ratio: A two-digit number that indicates the tire height-to-width measurements. For example, if the tire size aspect ratio is 60, as shown in item 3 of the illustration, it would mean that the tire's sidewall is 60 percent as high as it is wide.
(4) Construction Code: A letter code is used to indicate the type of ply construction in the tire. The letter R means radial ply construction; the letter D means diagonal or bias ply construction; and the letter B means belted-bias ply construction.
(5) Rim Diameter: Diameter of the wheel in inches.
(6) Service Description: These characters represent the load index and speed rating of the tire. The load index represents the load carrying capacity a tire is certified to carry. The speed rating is the maximum speed a tire is certified to carry a load.
Other info:
Chevrolet Sonic. Making a Call Using Phone Book
For cell phones that support the phone book feature, the Bluetooth system can use the contacts stored on your cell phone to make calls. See your cell phone's owner's guide or contact your wireless ...
Mazda 2. Supplementary Restraint System Components
Driver/Front passenger infl ators and air bags Crash sensors, and diagnostic module (SAS unit) Seat belt pretensioners (page 2-18 ) Front air bag sensor Side crash sensors * Air bag/s ...
Chevrolet Sonic. Malfunction Indicator Lamp
A computer system called OBD II (On-Board Diagnostics-Second Generation) monitors the operation of the vehicle to ensure emissions are at acceptable levels, helping to maintain a clean environment ...