Chevrolet Sonic: Tire Designations
Chevrolet Sonic Owners Manual
Tire Size
The following is an example of a typical passenger vehicle tire size.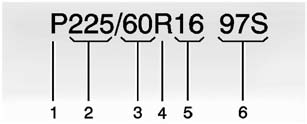 (1) Passenger (P-Metric) Tire: The United States version of a metric tire sizing system. The letter P as the first character in the tire size means a passenger vehicle tire engineered to standards set by the U.S. Tire and Rim Association.
(2) Tire Width: The three-digit number indicates the tire section width in millimeters from sidewall to sidewall.
(3) Aspect Ratio: A two-digit number that indicates the tire height-to-width measurements. For example, if the tire size aspect ratio is 60, as shown in item 3 of the illustration, it would mean that the tire's sidewall is 60 percent as high as it is wide.
(4) Construction Code: A letter code is used to indicate the type of ply construction in the tire. The letter R means radial ply construction; the letter D means diagonal or bias ply construction; and the letter B means belted-bias ply construction.
(5) Rim Diameter: Diameter of the wheel in inches.
(6) Service Description: These characters represent the load index and speed rating of the tire. The load index represents the load carrying capacity a tire is certified to carry. The speed rating is the maximum speed a tire is certified to carry a load.
Other info:
Peugeot 208. Remote control problem
Following disconnection of the vehicle battery, replacement of the remote control battery or in the event of a remote control malfunction, you can no longer unlock, lock or locate your vehicle. F ...
Skoda Fabia. Head restraints
Adjusting the head restraints Fig. 59 Head restraint: adjusting/removing Setting the height Grasp the side of the head restraint with both hands and push it upwards as required В» Fig. ...
Mazda 2. i-ELOOP
i-ELOOP is a regenerative braking system. When you depress the brake pedal or use engine braking, the kinetic energy that occurs is converted to electrical energy by the power generator and the ...