Chevrolet Sonic: Tire Sealant and Compressor Kit
Chevrolet Sonic Owners Manual
Warning
Idling a vehicle in an enclosed area with poor ventilation is dangerous. Engine exhaust may enter the vehicle. Engine exhaust contains carbon monoxide (CO) which cannot be seen or smelled. It can cause unconsciousness and even death. Never run the engine in an enclosed area that has no fresh air ventilation. For more information, see Engine Exhaust.
Warning
Overinflating a tire could cause the tire to rupture and you or others could be injured. Be sure to read and follow the tire sealant and compressor kit instructions and inflate the tire to its recommended pressure. Do not exceed the recommended pressure.
Warning
Storing the tire sealant and compressor kit or other equipment in the passenger compartment of the vehicle could cause injury. In a sudden stop or collision, loose equipment could strike someone. Store the tire sealant and compressor kit in its original location.
If this vehicle has a tire sealant and compressor kit, there may not be a spare tire or tire changing equipment, and on some vehicles there may not be a place to store a tire.
The tire sealant and compressor can be used to temporarily seal punctures up to 6 mm (0.25 in) in the tread area of the tire. It can also be used to inflate an underinflated tire.
If the tire has been separated from the wheel, has damaged sidewalls, or has a large puncture, the tire is too severely damaged for the tire sealant and compressor kit to be effective. See Roadside Assistance Program.
Read and follow all of the tire sealant and compressor kit instructions.
The kit includes: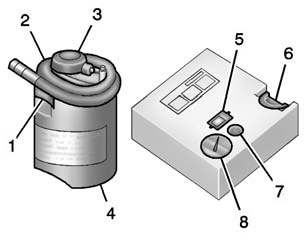 1. Sealant Canister Inlet Valve 2. Sealant/Air Hose
3. Base of Sealant Canister 4. Tire Sealant Canister 5. On/Off Button
6. Slot on Top of Compressor 7. Pressure Deflation Button 8. Pressure Gauge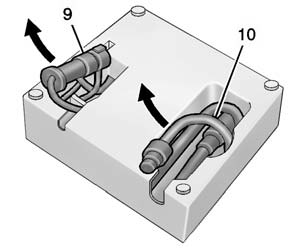 9. Power Plug
10. Air Only Hose
Other info:
Peugeot 208. Cornering lighting
With dipped or main beams, this function makes use of the beam from a front foglamp to illuminate the inside of a bend, when the vehicle speed is below 25 mph (approximately 40 km/h) (urban driv ...
Honda Fit. Fuel Information
■ Fuel recomme Unleaded gasoline, pump octane number 87 or higher Use of lower octane gasoline can cause a persistent, heavy metallic knocking noise that can lead to engine damage. ■ ...
Seat Ibiza. Petrol engine 1.8 110 kW (150 bhp)
General engine data a) Research-Octane-Number = Measure of the predetonation power of the petrol. b) Slight power loss Performance figures Weights Trailer weights Engine oil capacity ...