Chevrolet Sonic: Turn and Lane-Change Signals
Chevrolet Sonic Owners Manual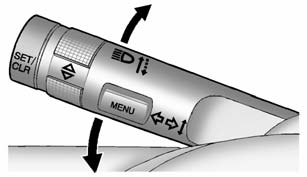 Move the lever all the way up or down to signal a turn.
An arrow on the instrument cluster will flash in the direction of the turn or lane change.
Raise or lower the lever until the arrow starts to flash to signal a lane change. Hold it there until the lane change is completed. If the lever is briefly pressed and released, the turn signal flashes three times.
The lever returns to its neutral position when it is released.
If after signaling a turn or lane change the arrow flashes rapidly or does not come on, a signal bulb may be burned out. Replace any burned out bulbs. If a bulb is not burned out, check the fuse. See Fuses and Circuit Breakers or Bulb Replacement.
Turn Signal On Chime
If the turn signal is left on for more than 1.2 km (0.75 mi), a chime will sound at each flash of the turn signal. To turn the chime off, move the turn signal lever to the neutral position.
Other info:
Mazda 2. Drive Selection
Drive selection is a system to switch the vehicle's drive mode. When the sport mode is selected, vehicle's response against accelerator operation is enhanced. Use the sport mode when higher vehi ...
Peugeot 208. Starting using another battery
Connect the red cable to the positive terminal (+) of the flat battery A , then to the positive terminal (+) of the slave battery B. Connect one end of the green or black cable to the negati ...