Citroen C3: Identification markings
Citroen C3 Owners Manual
Various visible markings for the identifi - cation of your vehicle.
A. Vehicle identifi cation number (VIN) under the bonnet.
This number is engraved on the bodywork near the damper mounting.
B. Vehicle identifi cation number on the dashboard.
This number is indicated on a selfadhesive label which is visible through the windscreen.
C. Manufacturer's label.
The VIN is indicated on a self-destroying label affi xed to the driver's centre pillar.
D. Tyre/paint label.
This label is affi xed to the driver's centre pillar.
It bears the following information:
- the tyre pressures, for unladen and laden conditions,
- the wheel rim and tyre sizes, - the brands of tyre recommended by the manufacturer,
- the spare tyre infl ation pressure, - the paint colour code.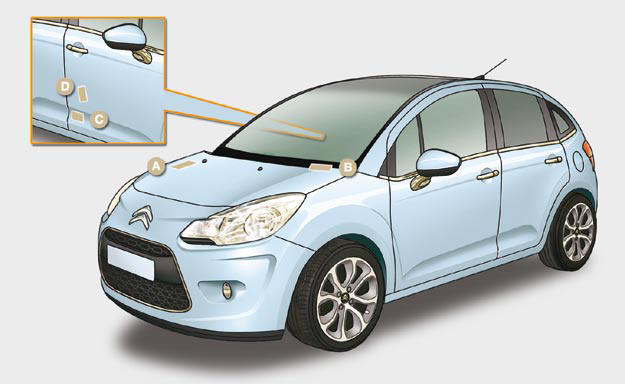 Wheels which are fi tted with 205/45 R17 tyres cannot be fi tted with snow chains. For further information, contact a CITROËN dealer.
The infl ation pressure must be checked when the tyres are cold, at least once a month.
If the infl ation pressure is too low, this increases fuel consumption.
Other info:
Citroen C3. Wiper controls
System for selection and control of the various front and rear wiping modes for the elimination of rain and cleaning. The vehicle's front and rear wipers are designed to improve the driver's vi ...
Fiat Punto. Protecting the environment
The devices for curtailing petrol engine emissions are the following: three-way catalytic converter; Lambda sensor; fuel evaporation system. In addition, do not let the engine run, even fo ...
Renault Clio. Display B
Vehicles fitted with touch-screen multimedia, navigation aid systems, telephones, etc. Refer to the separate instructions for the function to understand the special features of this equipme ...