Fiat Punto: Blades
Fiat Punto Owners Manual
Periodically clean the rubber part using special products; TUTELA PROFESSIONAL SC 35 is recommended.
If the rubber blades are bent or worn they should be replaced. In any case they should be changed once a year.
A few simple notions can reduce the possibility of damage to the blades:
if the temperature fall below zero, make sure that ice has not frozen the rubber against glass. If necessary, thaw using an antifreeze product;
remove any snow from the glass: in addition to protecting the blades, this prevents effort on the motor and overheating;
do not operate the windscreen and rear window wipers on dry glass.

Driving with worn wiper
blades is a serious hazard, because visibility is reduced in bad weather.
Changing the windscreen wiper blades
Proceed as follows: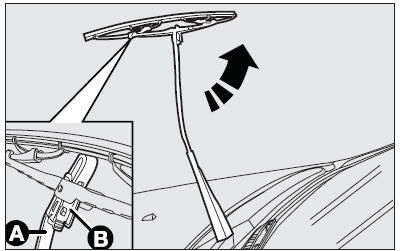 Changing the rear window blade
Proceed as follows:
raise the cover(A) and remove the arm from the car, slackening the nut (B) that fastens it to the pivot pin;
fit the new arm, positioning it correctly, and fully tighten the nut;
lower the cover.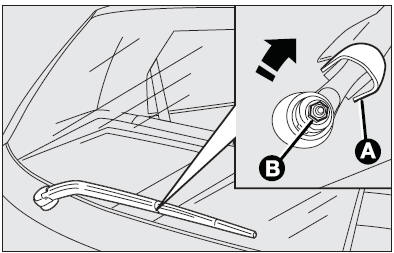 Other info:
Chevrolet Sonic. Lane Departure Warning (LDW) Light
This light comes on briefly while starting the vehicle. If it does not, have the vehicle serviced by your dealer. If the system is working normally, the light then turns off. This light comes o ...
Skoda Fabia. Cruise control system
The cruise control system (CCS) maintains a constant speed above 25 km/h, once it has been set, without you having to depress the accelerator pedal. This is only possible within the range which is ...
Chevrolet Sonic. Tire Terminology and Definitions
Air Pressure: The amount of air inside the tire pressing outward on each square inch of the tire. Air pressure is expressed in kPa (kilopascal) or psi (pounds per square inch). Accessory Weight: ...