Fiat Punto: Blades
Fiat Punto Owners Manual
Periodically clean the rubber part using special products; TUTELA PROFESSIONAL SC 35 is recommended.
If the rubber blades are bent or worn they should be replaced. In any case they should be changed once a year.
A few simple notions can reduce the possibility of damage to the blades:
if the temperature fall below zero, make sure that ice has not frozen the rubber against glass. If necessary, thaw using an antifreeze product;
remove any snow from the glass: in addition to protecting the blades, this prevents effort on the motor and overheating;
do not operate the windscreen and rear window wipers on dry glass.

Driving with worn wiper
blades is a serious hazard, because visibility is reduced in bad weather.
Changing the windscreen wiper blades
Proceed as follows: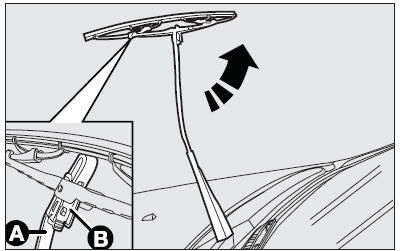 Changing the rear window blade
Proceed as follows:
raise the cover(A) and remove the arm from the car, slackening the nut (B) that fastens it to the pivot pin;
fit the new arm, positioning it correctly, and fully tighten the nut;
lower the cover.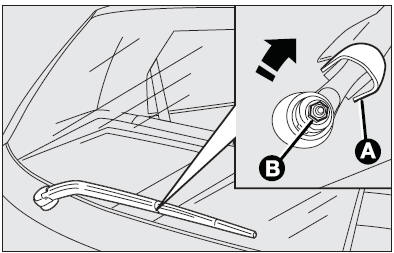 Other info:
Skoda Fabia. Unleaded petrol
The vehicle can only be operated with unleaded petrol in compliance with the EN 2281) standard. All petrol engines can be operated using petrol with a maximum of 10% bioethanol (E10). Specified ...
Seat Ibiza. Petrol engine 1.4 63 kW (86 bhp)
General engine data a) Research-Octane-Number = Measure of the predetonation power of the petrol. b) Slight power loss Performance figures Weights Trailer weights Engine oil capacity ...