Fiat Punto: Door mirrors
Fiat Punto Owners Manual
Manual adjustment
From the passenger compartment, use knob (A) to make the required adjustments. When required (for example when the mirror causes difficulty in narrow spaces) it is possible to fold the mirror moving it from position (1) to position (2).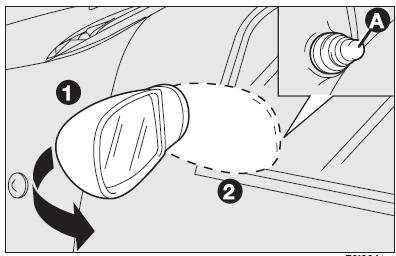 Electrical adjustment (where provided)
This operation can be only performed with ignition key to MAR.
Proceed as follows:
use switch (B) to select the mirror required (left or right);
to adjust the mirror move (A) in the four directions;
IMPORTANT Any adjustment of the mirror position must be carried out only with the car stationary and handbrake engaged.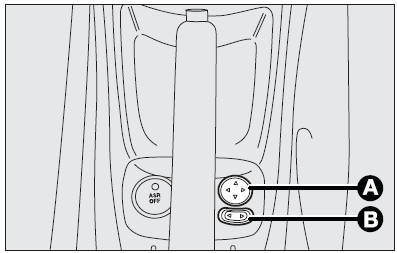 When driving the
mirrors shall always be in position (1).

As the driver's door
mirror is curved, it may slightly alter the perception of distance.
Other info:
Renault Clio. To lock the system
Press nut 3, screwing it on fully until it locks in place. Several turns will be necessary. This operation is essential to ensure that the wheel is secure; return handle 4 to its orig ...
Seat Ibiza. Brief introduction
Why wear a seat belt and assume the correct sittingposition? For the inflating airbags to achieve the best protection, the seat belt must always be worn properly and the correct sitting position mu ...