Fiat Punto: Front seat belt height adjustment
Fiat Punto Owners Manual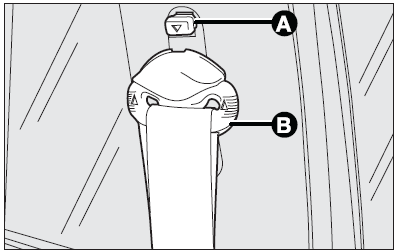 Always adjust the height of the seat belt to fit the person wearing it. This precaution could greatly reduce the risk of injury in case of collision.
Correct adjustment is obtained when the belt passes half way between the end of the shoulder and the neck.
Four different adjustments in height are provided.
To adjust, press button (A) and lower or raise the grip (B).

Make the height
adjustment when the car is stationary.

After adjustment,
always check that the slider is anchored in one of the positions provided. To do this, with the button (A) released, exert a further pressure to allow the anchor device to catch if release did not take place at one of the preset positions.
Other info:
Peugeot 208. With dual-zone digital air conditioning
Automatic visibility programme Select this programme to demist or defrost the windscreen and side windows as quickly as possible. The system automatically manages the air conditioning, air flow an ...
Nissan Micra. Changing engine oil filter
Park the vehicle on a level surface and apply the parking brake. Turn the engine off. Place a large drain pan under the oil filter B . Loosen the oil filter with an oil filter wrench ...
Renault Clio. Five door and estate versions
Reversing lights and rear fog lights 12 Open the boot lid. Unclip cover 13 and remove it. Turn bulb holder 14 fully anticlockwise and change the bulb. To reassemble, proceed in the ...