Fiat Punto: Front seat belt height adjustment
Fiat Punto Owners Manual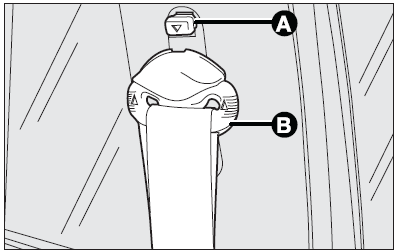 Always adjust the height of the seat belt to fit the person wearing it. This precaution could greatly reduce the risk of injury in case of collision.
Correct adjustment is obtained when the belt passes half way between the end of the shoulder and the neck.
Four different adjustments in height are provided.
To adjust, press button (A) and lower or raise the grip (B).

Make the height
adjustment when the car is stationary.

After adjustment,
always check that the slider is anchored in one of the positions provided. To do this, with the button (A) released, exert a further pressure to allow the anchor device to catch if release did not take place at one of the preset positions.
Other info:
Peugeot 208. Gear shift indicator
Operation The system intervenes only when driving economically. Depending on the driving situation and your vehicle's equipment, the system may advise you to skip one or more gears. You can fo ...
Mazda 2. Saving Fuel and Protection of the Environment
How you operate your Mazda determines how far it will travel on a tank of fuel. Use these suggestions to help save fuel and reduce CO2. Avoid long warm-ups. Once the engine runs smoothly, beg ...
Mazda 2. Warning/Indicator Lights
Instrument Cluster varies depending on model and specifi cations. Warning/Indicator lights will appear in any of the highlighted areas Warning Lights These lights turn on or fl ash to notify th ...