Fiat Punto: Front seat belt height adjustment
Fiat Punto Owners Manual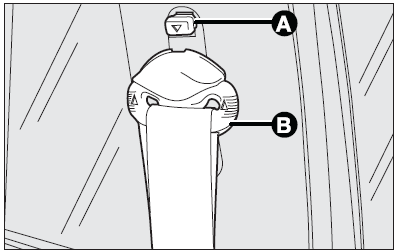 Always adjust the height of the seat belt to fit the person wearing it. This precaution could greatly reduce the risk of injury in case of collision.
Correct adjustment is obtained when the belt passes half way between the end of the shoulder and the neck.
Four different adjustments in height are provided.
To adjust, press button (A) and lower or raise the grip (B).

Make the height
adjustment when the car is stationary.

After adjustment,
always check that the slider is anchored in one of the positions provided. To do this, with the button (A) released, exert a further pressure to allow the anchor device to catch if release did not take place at one of the preset positions.
Other info:
Peugeot 208. Recommendations for ventilation and air conditioning
In order for these systems to be fully effective, follow the operation and maintenance guidelines below: To obtain an even air distribution, take care not to obstruct the exterior air intake ...
Nissan Micra. Adjusting the screen
The procedure for adjusting the display settings of the screen differs depending on the type of screen present on the vehicle. Firmly apply the brake and place the shift lever in R (revers ...