Fiat Punto: General
Fiat Punto Owners Manual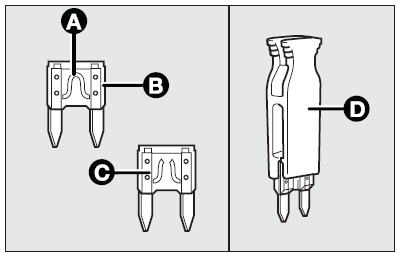 The fuse is a protective device for the electric system: it comes into action (i.e. it cuts off) mainly due to a fault or improper action on the system.
When a device does not work, check the efficiency of its fuse. The conductor element (A) must be intact. If not, replace the fuse with one of the same amp rating (same colour).
(B): undamaged fuse
(C): fuse with damaged filament.
To facilitate fuse replacement, use the pliers (D) located in the fuse box

Never replace a fuse
with metal wires or anything else.

Never replace a fuse
with another with a higher amp rating; DANGER OF FIRE.

If a general fuse
(MAXI-FUSE) cuts in, do not attempt any repair and contact a Fiat Dealership. Before replacing a fuse, make sure the ignition key has been removed and that all the other services are switched off and/or disengaged.

If fuse blows again,
contact a Fiat Dealership.
Other info:
Peugeot 208. Coolant temperature gauge
With the engine running, when the needle is: - in zone A , the temperature is correct, - in zone B, the temperature is too high; the maximum temperature and the central STOP warning lamps come o ...
Chevrolet Sonic. Remote Keyless Entry (RKE) System
The RKE transmitter may work up to 60m (195 ft) away from the vehicle. The RKE transmitter can have one of the two symbols for the remote trunk release. With Remote Start Shown Press the key ...
Nissan Micra. RearView Monitor system limitations
WARNING Listed below are the system limitations for RearView Monitor. Failure to operate the vehicle in accordance with these system limitations could result in serious injury or ...