Fiat Punto: Headlights
Fiat Punto Owners Manual
ADJUSTING THE HEADLIGHT BEAM
Proper adjustment of the headlight beams is of vital importance for your safety and comfort and also for the other road users. It is also a specific regulation of the road traffic code. To ensure you and other drivers have the best visibility conditions when travelling with the headlights on, the headlights must be set properly.
Contact Fiat Dealership to have the headlights properly adjusted.
Check beam aiming every time the load carried changes.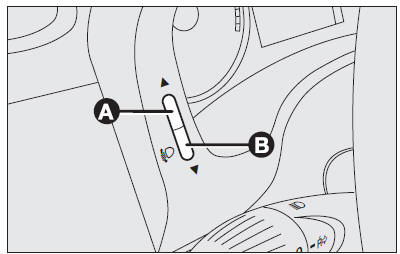 HEADLIGHT SLANT ADJUSTING DEVICE
The car is fitted with electric headlight slant adjusting device working with ignition key to MAR and dipped beams on.
When the car is loaded, it slopes backwards. This means that the headlight beam rises. In this case, it is necessary to return it to the correct position.
To adjust the headlight slant, proceed as follows:
hold button (B) pressed to increase by one position (e.g.: 0 → 1,1 → 2,2 → 3);
hold button (A) pressed to decrease by one position (e.g.: 3 → 2,2 → 1,1 → 0).
Each position increase corresponds to a beam slant lowering (laden car).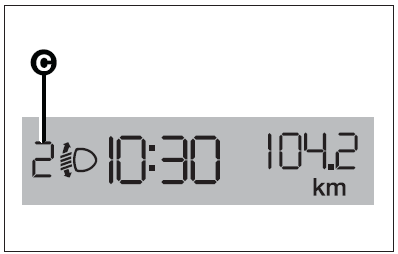 Digital display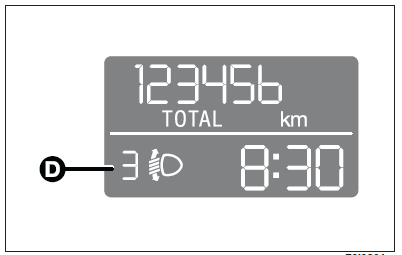 Multifunction display
Correct positions as a function of the load
Position 0 - one or two people occupying the front seats.
Position 1 - five people.
Position 2 - five people + load in the boot.
Position 3 - driver + maximum permissible load stowed in the boot.
IMPORTANT Check beam aiming every time the load carried changes.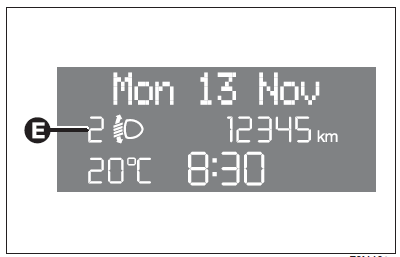 Reconfigurable multifunction display
HEADLIGHT ADJUSTMENT ABROAD
The dipped beam headlights are adjusted for circulation in the country in which the vehicle is marketed. In countries with opposite circulation, to avoid glaring oncoming vehicles it is necessary to cover the areas of the headlight as shown below; this is done using non-transparent sticker tape.
Figures refer to passing from right-hand drive to left-hand drive.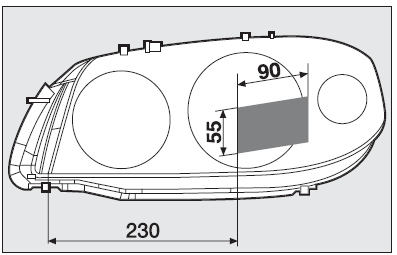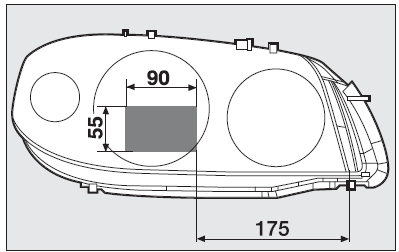 Other info:
Chevrolet Sonic. Connecting a USB Storage Device or iPod/iPhone
To connect a USB storage device, connect the device to the USB port. To connect an iPod/iPhone, connect one end of the device's cable to the iPod/iPhone and the other end to the USB port. The iP ...
Chevrolet Sonic. Floor Mats
Warning If a floor mat is the wrong size or is not properly installed, it can interfere with the pedals. Interference with the pedals can cause unintended acceleration and/or increased stopping d ...
Renault Clio. Fitting a child seat, general information
Some seats are not suitable for fitting child seats. The diagram on the following page shows you how to attach a child seat. The types of child seat indicated may not be available. Before using ...