Fiat Punto: Parking
Fiat Punto Owners Manual
Proceed as follows:
Stop the engine and engage the handbrake;
Engage a gear (first if the car is faced uphill or reverse if it is faced downhill) and leave the wheels steered.
Block the wheels with a wedge or a stone if the car is parked on a steep slope. Do not leave the ignition key at MAR to prevent draining the battery. Always remove the key when you leave the car.
HANDBRAKE
The handbrake lever is located between the two front seats.
Pull the handbrake lever upwards until the car cannot be moved. Four or five clicks are generally enough when the car is on level ground while nine or ten may be required if the car is on a steep slope or laden.
IMPORTANT If this is not the case, contact Fiat Dealership to have the handbrake adjusted.
When the handbrake lever is pulled up and the ignition key is at MAR the panel warning light

will come on.

Never leave children
unattended in the car. Always remove the ignition key when leaving the car and take it out with you.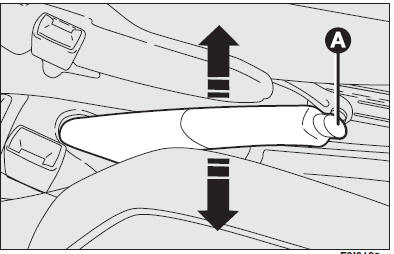 To release the handbrake:
Slightly lift the handbrake and press release button (A);
Keep button (A) pressed in and lower the lever. Warning light x will go out.
Press the brake pedal when carrying out this operation to prevent the car from moving accidentally.
Other info:
Honda Fit. Precautions While Driving
NOTICE Do not operate the shift lever while pressing the accelerator pedal. You could damage the transmission. If the ignition switch is turned to ACCESSORY or LOCK while driving, the engine ...
Renault Clio. Driver correction devices and aids
Depending on the vehicle, this is composed of: anti-lock braking system (ABS); electronic stability program (ESC) with understeer control and traction control; emergency brake assist; h ...
Skoda Fabia. New tyres
Only fit radial tyres of the same type, size (rolling circumference) and the same tread pattern on one axle on all four wheels. The tyre/wheel combinations which are approved for your vehicle ar ...