Fiat Punto: Parking sensors
Fiat Punto Owners Manual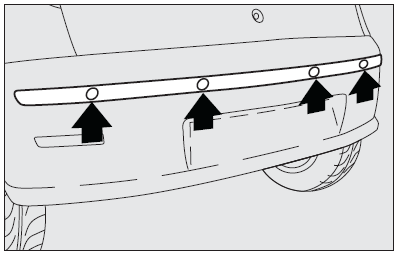 The parking system detects and informs the driver (through an intermittent acoustic signal) about the presence of obstacles in the rear part of the car.
ACTIVATION
The sensors are automatically activated when the reverse gear is engaged.
The sound produced by the acoustic alarm becomes louder when the distance between the car and the obstacle decreases.
BUZZER WARNINGS
When the reverse gear is engaged a short acoustic signal is automatically activated.
When an obstacle is detected an intermittent buzzer will sound ad follows:
the sound frequency increases as the obstacle gets nearer;
when the obstacle is t distance of less that 30 cm from the car, a continous sound is emitted;
sound is constant if the distance between car and obstacle is unvaried.
Direction distances
Central action radius ........................ 120 cm Side action radius .............................. 60 cm
If several obstacles are detected, the control unit indicates the nearest one.
FAILURE WARNINGS
In case of parking sensor failure, the driver is warned when engaging reverse by high sound warning (for 3 seconds).
OPERATION WITH TRAILER
The system is preset for deactivating automatically when the trailer electric cable plug is fitted into the car tow hook socket.
Sensors are reactivated when removing the trailer cable plug.

For proper operation,
the parking sensors set on the bumpers shall be clean from mud, dirt, snow or ice. When cleaning the sensors, take the utmost care to prevent their damaging; do not use therefore dry or rough clothes. Sensors shall be washed with clean water and car detergent, if required. In washing stations, clean sensors quickly keeping the vapour jet/high pressure washing nozzles at 10 cm at least from the sensors.

Parking manoeuvres
however are always under the driver's responsibility. He/she shall always check the absence of people (specially children) or animals in the manoeuvre space. This system is just a help for the driver but he shall never reduce attention during dangerous manoeuvres even if performed at low speed.
GENERAL WARNINGS
When parking, take the utmost care to obstacles set above or under the sensors.
Objects set close to the car front or rear part, under certain circumstances are not detected and could therefore cause damages to the car.
Indications sent by the sensors can be altered by dirt, snow or ice deposited on the sensors or by ultrasound systems (e.g.: truck pneumatic brakes or pneumatic hammers) set nearby the car.
Other info:
Honda Fit. Adding Engine Oil
1. Unscrew and remove the engine oil fill cap. 2. Add oil slowly. 3. Reinstall the engine oil fill cap, and tighten it securely. 4. Wait for three minutes and recheck the engine oil dipstick. ...
Chevrolet Sonic. Heated Front Seats
Warning If you cannot feel temperature change or pain to the skin, the seat heater may cause burns. To reduce the risk of burns, people with such a condition should use care when using the seat h ...