Honda Fit: Fog Light Bulbs
Honda Fit Owners Manual
When replacing, use the following bulbs.
Fog Light: 55 W (H11)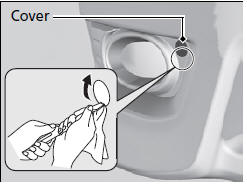 1. Pry on the edge of the cover using a flat-tip screwdriver to remove the cover.
► Wrap the flat-tip screwdriver with a cloth to prevent scratches.
NOTICE
Halogen bulbs get very hot when lit. Oil, perspiration, or a scratch on the glass can cause the bulb to overheat and shatter.
The fog lights are halogen bulbs.
When replacing a bulb, handle it by its plastic case, and protect the glass from contact with your skin or hard objects. If you touch the glass, clean it with denatured alcohol and a clean cloth.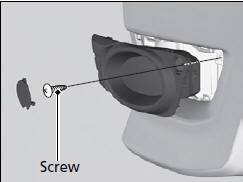 2. Remove the screw using a Phillips-head screwdriver and carefully pull the fog light assembly out of the bumper.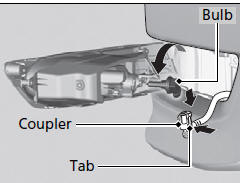 3. Remove the coupler.
► It can be removed by pushing the tab.> 4. Rotate the old bulb to the left to remove.> 5. Insert a new bulb into the fog light assembly and turn it to the right.> 6. Insert the coupler into the connector of the bulb.
Other info:
Citroen C3. Interior features
Scented air freshener The scented air freshener diffuses the selected fragrance throughout the passenger compartment from its location in the ventilation system. Automatic air conditioning ...
Renault Clio. Trip computer and warning system
Information messages These can help in the vehicle starting phase, or give information about a selection or a driving status. Examples of information messages are given in the following pages. ...
Peugeot 208. Rear view mirror
Adjustable mirror providing a central rearward view. Equipped with an anti-dazzle system, which darkens the mirror glass: this reduces the nuisance to the driver caused by the headlamps from follow ...