Honda Fit: Fog Light Bulbs
Honda Fit Owners Manual
When replacing, use the following bulbs.
Fog Light: 55 W (H11)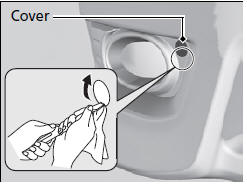 1. Pry on the edge of the cover using a flat-tip screwdriver to remove the cover.
► Wrap the flat-tip screwdriver with a cloth to prevent scratches.
NOTICE
Halogen bulbs get very hot when lit. Oil, perspiration, or a scratch on the glass can cause the bulb to overheat and shatter.
The fog lights are halogen bulbs.
When replacing a bulb, handle it by its plastic case, and protect the glass from contact with your skin or hard objects. If you touch the glass, clean it with denatured alcohol and a clean cloth.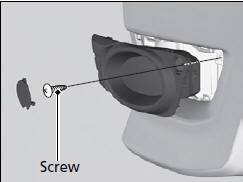 2. Remove the screw using a Phillips-head screwdriver and carefully pull the fog light assembly out of the bumper.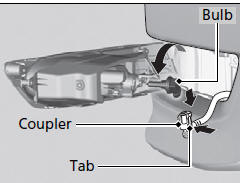 3. Remove the coupler.
► It can be removed by pushing the tab.> 4. Rotate the old bulb to the left to remove.> 5. Insert a new bulb into the fog light assembly and turn it to the right.> 6. Insert the coupler into the connector of the bulb.
Other info:
Chevrolet Sonic. When the System Does Not Seem To Work Properly
If the LDW symbol does not appear: The lane markings on the road may not be seen. The camera sensor may be blocked by dirt, snow or ice. The windshield may be damaged. The weather may be lim ...
Chevrolet Sonic. Bluetooth Controls
Use the buttons located on the infotainment system and the steering wheel to operate the Bluetooth system. Steering Wheel Controls (Push to Talk): Press to answer incoming calls, confirm system ...
Skoda Fabia. Vehicle exterior care
Regular and proper care help to retain the efficiency and value of your vehicle. It may also be one of the requirements for the acceptance of warranty claims relating to corrosion damage and pai ...