Honda Fit: Fog Light Bulbs
Honda Fit Owners Manual
When replacing, use the following bulbs.
Fog Light: 55 W (H11)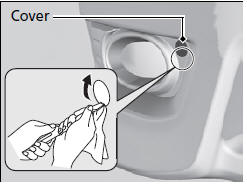 1. Pry on the edge of the cover using a flat-tip screwdriver to remove the cover.
► Wrap the flat-tip screwdriver with a cloth to prevent scratches.
NOTICE
Halogen bulbs get very hot when lit. Oil, perspiration, or a scratch on the glass can cause the bulb to overheat and shatter.
The fog lights are halogen bulbs.
When replacing a bulb, handle it by its plastic case, and protect the glass from contact with your skin or hard objects. If you touch the glass, clean it with denatured alcohol and a clean cloth.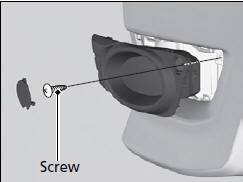 2. Remove the screw using a Phillips-head screwdriver and carefully pull the fog light assembly out of the bumper.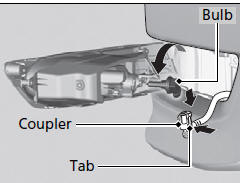 3. Remove the coupler.
► It can be removed by pushing the tab.> 4. Rotate the old bulb to the left to remove.> 5. Insert a new bulb into the fog light assembly and turn it to the right.> 6. Insert the coupler into the connector of the bulb.
Other info:
Ford Fiesta. Audio System
General Information Radio Frequencies and Reception Factors CD and CD Player Information Note: CD units play commercially pressed 4.75-inch (12 centimeter) audio compact discs only. Due to technical ...
Seat Ibiza. Rearview mirrors
Adjusting the head restraints Before beginning any journey, adjust the rear-view mirrors for correct visibility. Interior mirror It is dangerous to drive if you cannot see clearly through the rear ...
Ford Fiesta. Settings
Clock Display Sound Vehicle Settings Help Under this menu, you can set your clock, access and adjust the display, sound and vehicle settings as well as access settings for specific modes or ...