Honda Fit: Refilling Window Washer Fluid
Honda Fit Owners Manual
Models without washer level sensor
Check the amount of window washer fluid. Look for 1/2 mark on the reservoir.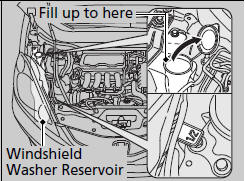 If the level is low, fill the washer reservoir.
Models with washer level senso
If the washer fluid is low, the indicator appears on the instrument panel. Pour the washer fluid carefully. Do not overflow the reservoir.
NOTICE
Do not use engine antifreeze or a vinegar/water solution in the windshield washer reservoir.
Antifreeze can damage your vehicle's paint. A vinegar/water solution can damage the windshield washer pump.
Other info:
Peugeot 208. Remote control problem
Following disconnection of the vehicle battery, replacement of the remote control battery or in the event of a remote control malfunction, you can no longer unlock, lock or locate your vehicle. F ...
Fiat Punto. Refitting the standard wheel
Proceed as follows: Following the procedure described previously, raise the car and remove the spare wheel; Make sure the contact surfaces between wheel and hub are clean so that the fas ...