Honda Fit: Tire Rotation
Honda Fit Owners Manual
Rotating tires according to the Maintenance Minder message on the information display helps to distribute wear more evenly and increase tire life.
■ Tires without rotation marks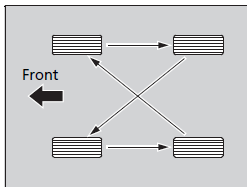 Rotate the tires as shown here.
■ Tires with rotation marks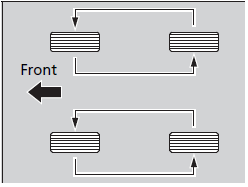 Rotate the tires as shown here.
Tires with directional tread patterns should only be rotated front to back (not from one side to the other).
Directional tires should be mounted with the rotation indication mark facing forward, as shown below.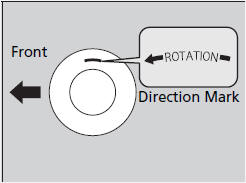 Other info:
Renault Clio. Accessories
Electrical and electronic accessoriesBefore installing this type of accessory (particularly for transmitters/receivers: frequency bandwidth, power level, position of the aerial, etc. ...
Chevrolet Sonic. Driving for Better Fuel Economy
Driving habits can affect fuel mileage. Here are some driving tips to get the best fuel economy possible. Avoid fast starts and accelerate smoothly. Brake gradually and avoid abrupt stops. A ...