Mazda 2: Headlight Washer
Mazda2 Owners Manual
The ignition must be switched ON and the headlights must be turned on.
The headlight washers operate automatically once every fi fth time the windscreen washer operates.
If you want to operate headlight washers, double fl ick the wiper lever.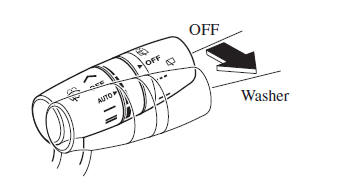 NOTE
If air enters the headlight washer fl uid pipe under conditions such as when the vehicle is brand-new or after an empty washer tank is replenished with washer fl uid, washer fl uid will not spray even when the wiper lever is operated.
If this occurs, perform the following procedure:
Start the engine.
Turn on the headlights.
Double fl ick the wiper lever several times until the washer fl uid sprays.
Other info:
Peugeot 208. Checking tyre pressures / inflating accessories
You can also use the compressor, without injecting any product, to: - check or adjust the pressure of your tyres, - inflate other accessories (balls, bicycle tyres...). Turn the selector A to ...
Citroen C3. Remote control key
System which permits central unlocking or locking of the vehicle using the lock or from a distance. It is also used to locate and start the vehicle, as well as providing protection against the ...