Mazda 2: Window and Headlight Washer Fluid
Mazda2 Owners Manual
Inspecting Washer Fluid Level
WARNING
Use only windscreen washer fl uid or plain water in the reservoir: Using radiator antifreeze as washer fl uid is dangerous. If sprayed on the windscreen, it will dirty the windscreen, affect your visibility, and could result in an accident.
Inspect fl uid level in the washer fl uid reservoir; add fl uid if necessary.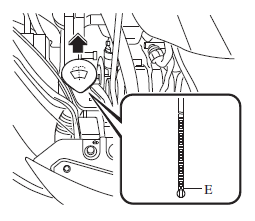 Use plain water if washer fl uid is unavailable.
But use only washer fl uid in cold weather to prevent it from freezing.
NOTE
Front and rear washer fl uid is supplied from the same reservoir.
Other info:
Skoda Fabia. Heating, ventilation, cooling
The heating effect is dependent upon the coolant temperature, thus full heat output only occurs when the engine has reached its operating temperature. If the cooling system is switched on, the tem ...
Fiat Punto. Cellular phone set-up
The system set-up, combined with radio consists of: dual-purpose aerial (sound system + cellular phone 900/1800 MHz), on the car roof; dual-purpose connection wires and ten-pin connector wir ...