Mazda 2: Window and Headlight Washer Fluid
Mazda2 Owners Manual
Inspecting Washer Fluid Level
WARNING
Use only windscreen washer fl uid or plain water in the reservoir: Using radiator antifreeze as washer fl uid is dangerous. If sprayed on the windscreen, it will dirty the windscreen, affect your visibility, and could result in an accident.
Inspect fl uid level in the washer fl uid reservoir; add fl uid if necessary.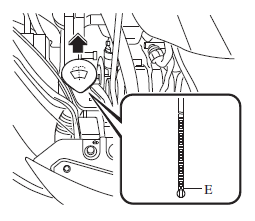 Use plain water if washer fl uid is unavailable.
But use only washer fl uid in cold weather to prevent it from freezing.
NOTE
Front and rear washer fl uid is supplied from the same reservoir.
Other info:
Renault Clio. Battery
To avoid all risk of sparks: Ensure that any electrical consumers (courtesy lights, etc.) are switched off before disconnecting or reconnecting the battery. When charging, stop the charger ...
Nissan Micra. Determining vehicle load capacity
The load capacity of this vehicle is determined by weight, not by available cargo space. For example, a luggage rack, bike carrier, cartop carrier or similar equipment does not increase load carry ...
Renault Clio. Deadlocking
If the vehicle is equipped with a deadlocking function, this allows you to lock the opening elements and to prevent the doors from being unlocked using the interior handles (for example, by b ...