Nissan Micra: Checking engine oil level
Nissan Micra Owners Manual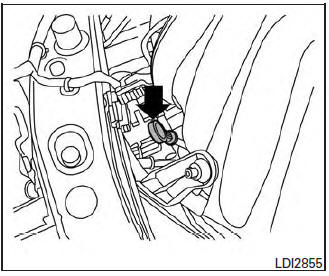 Park the vehicle on a level surface and apply the parking brake.
Start the engine and let it idle until it reaches operating temperature.
Turn off the engine. Wait more than 10 minutes for the oil to drain back into the oil pan.
Remove the dipstick and wipe it clean. Reinsert it all the way.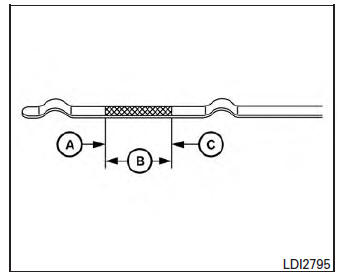 Remove the dipstick again and check the oil level. It should be between the H (High) and L (Low) marks B . This is the normal operating oil level range. If the oil level is below the L (Low) mark A , remove the oil filler cap and pour recommended oil through the opening. Do not overfill C .
Recheck oil level with the dipstick.
It is normal to add some engine oil between oil maintenance intervals depending on the severity of operating conditions or depending on the property of the engine oil used. More engine oil is consumed by frequent acceleration/deceleration especially when the engine rpm is high. Consumption is likely to be higher when the engine is new. If the rate of oil consumption, after driving for 3,000 miles (5,000 km), is more than 0.5 liter per 600 miles (1,000 km), consult a NISSAN dealer
CAUTION Oil level should be checked regularly. Operating the engine with an insufficient amount of oil can damage the engine, and such damage is not covered by warranty.
Other info:
Mazda 2. Child-Restraint System Installation
Categories of Child-Restraint Systems NOTE When purchasing, ask the manufacturer of the child-restraint system which type of childrestraint system is appropriate for your child and vehicle. (Eur ...
Mazda 2. Engine Oil
NOTE Changing the engine oil should be done by an expert repairer, we recommend an Authorised Mazda Repairer. Recommended Oil In order to keep the maintenance interval (page 6-3 ) and to protect ...