Nissan Micra: Exterior and interior lights
Nissan Micra Owners Manual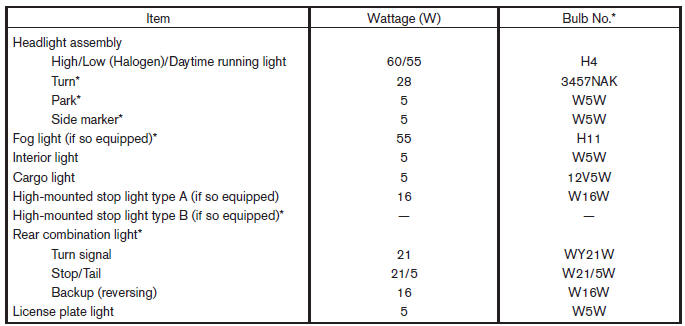 Always check with the Parts Department at a NISSAN dealer for the latest parts information.
* If replacement is required contact a NISSAN dealer.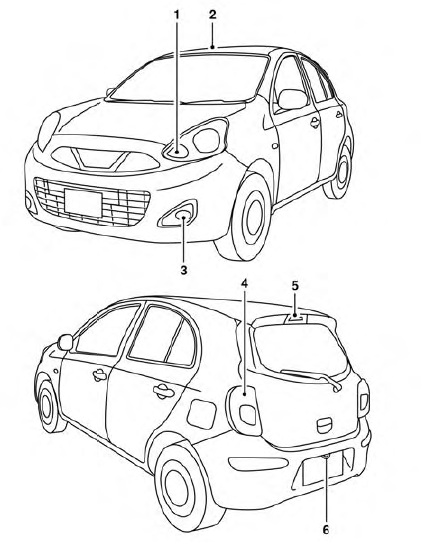 Headlight assembly
Interior light
Fog light (if so equipped)
Rear combination light
High-mounted stop light
License plate light
Replacement procedures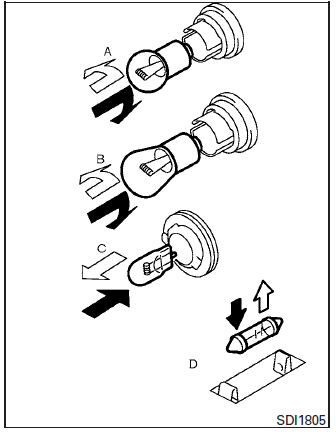 All other lights are either type A, B, C or D. When replacing a bulb, first remove the lens, lamp and/or cover.

Indicates bulb removal

Indicates bulb installation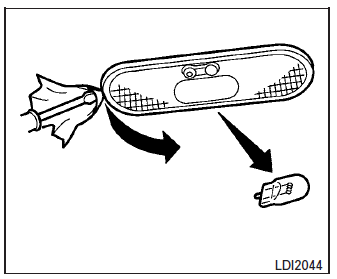 Interior light
Use a cloth to protect the housing.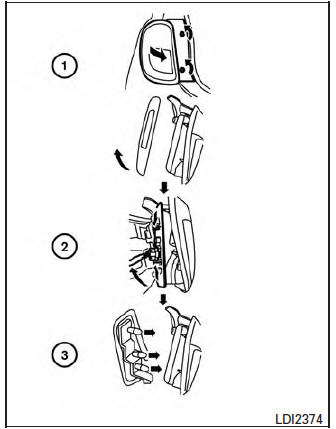 Rear combination light
To replace the bulbs in the rear combination light:
Remove the rear combination light mounting bolts.
Carefully remove the gasket protector.
Pull rear combination light toward the rear of the vehicle and disconnect the rear combination light connector to remove the assembly.
Remove bulbs by turning counterclockwise and replace with new bulbs.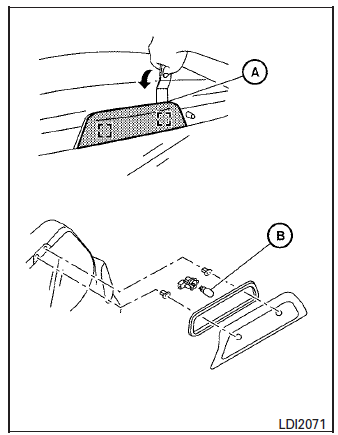 High-mounted stop light (Type A) (if so equipped):
To replace the high-mounted stop light bulb
Disconnect the negative (-) battery cable.
Remove the lens cover of the high-mounted stop light by inserting an appropriate remover tool between the top of the lens cover (the side not touching the glass of the rear door) and the vehicle A . Pull toward you.
After the cover is removed, disconnect the harness connector and remove the highmounted stop light bulb B by rotating it counterclockwise.
Replace with new bulb and reinstall cover.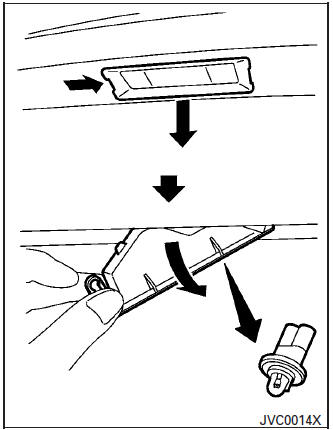 License plate light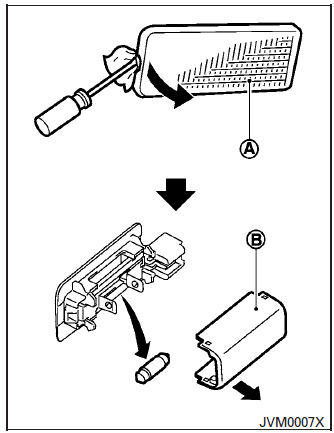 Cargo light
To replace the luggage compartment light bulb:
Remove the light A with a suitable tool.
Remove the cover B .
Replace the bulb
Other info:
Chevrolet Sonic. Vehicle Data Recording and Privacy
The vehicle has a number of computers that record information about the vehicle's performance and how it is driven. For example, the vehicle uses computer modules to monitor and control engine a ...
Chevrolet Sonic. Power Outlets
The accessory power outlets can be used to plug in electrical equipment, such as a cell phone or MP3 player. The vehicle has an accessory power outlet in front of the cupholders on the center flo ...