Nissan Micra: Hood
Nissan Micra Owners Manual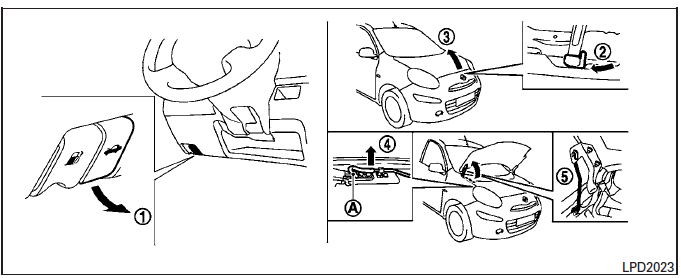 Pull the hood lock release handle 1 located below the instrument panel until the hood springs up slightly.
Locate the lever 2 in between the hood and grille and push the lever sideways with your fingertips.
Raise the hood 3 .
Remove the support rod 4 and insert it into the slot 5 .
Hold the coated parts A when removing or resetting the support rod. Avoid direct contact with the metal parts, as they may be hot immediately after the engine has been stopped.
When closing the hood, return the support rod to its original position, lower the hood to approximately 30 cm (12 in) above the latch and release it. This allows proper engagement of the hood latch.
WARNING
Make sure the hood is completely closed and latched before driving. Failure to do so could cause the hood to fly open and result in an accident.
If you see steam or smoke coming from the engine compartment, to avoid injury do not open the hood.
Other info:
Peugeot 208. Speed limiter
System which prevents the vehicle from exceeding the speed programmed by the driver. When the programmed speed limit is reached, pressing the accelerator pedal in the normal manner no longer has a ...
Seat Ibiza. Why wear seat belts?
Frontal collisions and the laws of physics In the event of a frontal collision, a large amount of kinetic energy is generated. Fig. 6 Vehicle about to hit a wall: the occupants are not wearing sea ...
Peugeot 208. Failure of the remote control
To deactivate the monitoring functions: Unlock the vehicle using the key in the driver's door lock. Open the door; the alarm is triggered. Switch on the ignition; the alarm stops. The indi ...