Nissan Micra: Hood
Nissan Micra Owners Manual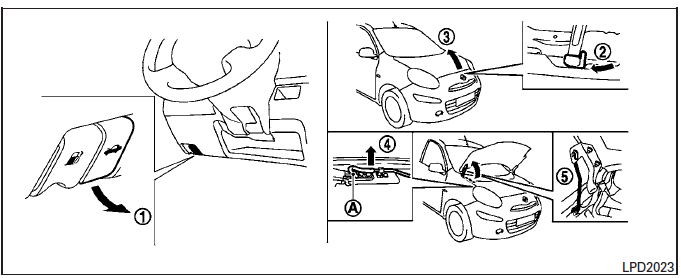 Pull the hood lock release handle 1 located below the instrument panel until the hood springs up slightly.
Locate the lever 2 in between the hood and grille and push the lever sideways with your fingertips.
Raise the hood 3 .
Remove the support rod 4 and insert it into the slot 5 .
Hold the coated parts A when removing or resetting the support rod. Avoid direct contact with the metal parts, as they may be hot immediately after the engine has been stopped.
When closing the hood, return the support rod to its original position, lower the hood to approximately 30 cm (12 in) above the latch and release it. This allows proper engagement of the hood latch.
WARNING
Make sure the hood is completely closed and latched before driving. Failure to do so could cause the hood to fly open and result in an accident.
If you see steam or smoke coming from the engine compartment, to avoid injury do not open the hood.
Other info:
Mazda 2. Emergency Flat Tyre Repair Kit
The emergency fl at tyre repair kit included with your Mazda is for a temporary repair of a slightly damaged fl at tyre resulting from running over nails or similar sharp objects on the road surfa ...
Mazda 2. Brake System
Foot Brake This vehicle has power-assisted brakes that adjust automatically through normal use. Should power-assist fail, you can stop by applying greater force than normal to the brake pedal. ...
Nissan Micra. Rear switch operation
The rear window wiper and washer operate when the ignition switch is placed in the ON position. Turn the switch clockwise from the OFF position to operate the wiper. Intermittent (INT) †...