Nissan Micra: Power outlet
Nissan Micra Owners Manual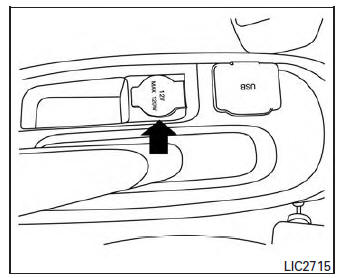 The power outlet is for powering electrical accessories such as cellular telephones. The outlet is rated at 12 volt, 120W (10A) maximum.
CAUTION
The outlet and plug may be hot during or immediately after use.
Only certain power outlets are designed for use with a cigarette lighter unit. Do not use any other power outlet for an accessory lighter. For additional information, see a NISSAN dealer.
Do not use with accessories that exceed a 12 volt, 120W (10A) power draw. Do not use double adapters or more than one electrical accessory.
Use power outlets with the engine running to avoid discharging the vehicle battery.
Avoid using power outlets when the air conditioner (if so equipped), headlights or rear window defroster (if so equipped) is on.
Before inserting or disconnecting a plug, be sure the electrical accessory being used is turned OFF.
Push the plug in as far as it will go. If good contact is not made, the plug may overheat or the internal temperature fuse may open.
When not in use, be sure to close the cap. Do not allow water or any other liquid to contact the outlet.
Other info:
Nissan Micra. Air flow charts
The following charts show the button and dial positions for MAXIMUM AND QUICK heating, cooling or defrosting. The air intake lever should always be in the position for heating and defrosting. ...
Nissan Micra. Front manual seat adjustment
Your vehicle seats can be adjusted manually. For additional information about adjusting the seats, refer to the steps outlined in this section. Forward and backward Pull the center of the bar ...