Peugeot 208: Alarm
Peugeot 208 Owners Manual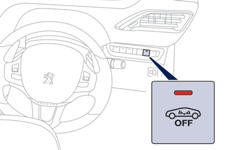 System which protects and provides a deterrent against theft and break-ins. It provides the following types of monitoring:
- Exterior perimeter
The system checks for opening of the vehicle. The alarm is triggered if anyone tries to open a door, the boot, the bonnet...
- Interior volumetric
The system checks for any variation in the volume in the passenger compartment. The alarm is triggered if anyone breaks a window, enters the passenger compartment or moves inside the vehicle.
Self-protection function
The system checks for the putting out of service of its components. The alarm is triggered if the battery, the central control or the wires of the siren are put out of service or damaged.
For all work on the alarm system, contact a PEUGEOT dealer or a qualified workshop.
Other info:
Peugeot 208. Manual gear changing
This selective gear change mode enables you to overtake, for example, while still remaining in automatic mode. Operate the + or - steering mounted control paddle. The gearbox engages the gear re ...
Peugeot 208. 5-speed manual gearbox
Engaging reverse gear Push the gear lever to the right then backwards. Only engage reverse gear when the vehicle is stationary with the engine at idle. As a safety precaution and to facilitate st ...
Skoda Fabia. Parking aid
WARNING The parking aid is not a substitute for the driver paying proper attention and it is always the driver's responsibility to take care when reversing the vehicle or carrying out simil ...