Peugeot 208: Courtesy lamp
Peugeot 208 Owners Manual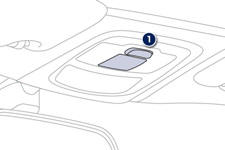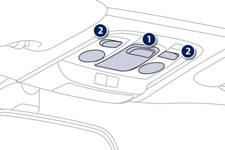 1. Front courtesy lamp 2. Map reading lamps

In this position, the courtesy lamp comes on gradually:
- when the vehicle is unlocked, - when the key is removed from the ignition, - when opening a door,
- when the remote control locking button is pressed, in order to locate your vehicle.
It switches off gradually:
- when the vehicle is locked, - when the ignition is switched on, - 30 seconds after the last door is closed.

Permanently off.

Permanent lighting.
With the "permanent lighting" mode, the lighting time varies according to the circumstances:
- with the ignition off, approximately ten minutes, - in energy economy mode, approximately thirty seconds, - with the engine running, unlimited.
Other info:
Peugeot 208. Deadlocking
Deadlocking renders the exterior and interior door controls inoperative. It also deactivates the manual central control button. Therefore, never leave anyone inside the vehicle when it is deadlocke ...
Renault Clio. To refit a wheel
A wheel size larger than 15" cannot be installed under the vehicle. To carry out this operation, the cable must be unwound. If the cable has been wound back up on its ow ...
Peugeot 208. Charging the battery using a battery charger
Disconnect the battery from the vehicle. Follow the instructions for use provided by the manufacturer of the charger. Connect the battery starting with the negative terminal (-). Check that t ...