Peugeot 208: Front passenger's airbag
Peugeot 208 Owners Manual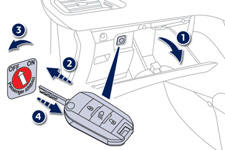 1. Open the glove box.
2. Insert the key.
3. Select position:
"ON" (activation), with front passenger or "forwards facing" child seat, "OFF" (deactivation), with "rear facing" child seat.
4. Remove the key keeping the switch in the new position.
Other info:
Chevrolet Sonic. When to Change Engine Oil
This vehicle has a computer system that indicates when to change the engine oil and filter. This is based on a combination of factors which include engine revolutions, engine temperature, and mile ...
Renault Clio. Luggage net
Luggage net A On equipped vehicles, this can be used when transporting animals or luggage, to separate them from the passenger section. It can be positioned: behind the front seats; b ...
Renault Clio. Engine oil level: general information
It is normal for an engine to use oil for lubrication and cooling of moving parts and it is normal to top up the level between oil changes. However, contact your approved Dealer if more than 0. ...