Peugeot 208: Indicator and warning lamps
Peugeot 208 Owners Manual
Visual indicators informing the driver that a system is in operation, switched off or has a fault.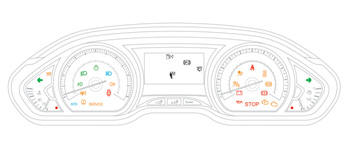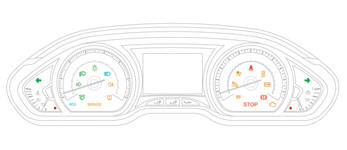 When the ignition is switched on
Certain warning lamps come on for a few seconds in the instrument panel and/or instrument panel screen when the vehicle's ignition is switched on. When the engine is started, these same warning lamps should go off. If they remain on, before moving off, refer to the information on the warning lamp concerned.
Associated warnings
The switching on of certain warning lamps may be accompanied by an audible signal and a message in the instrument panel or multifunction screen. The warning lamps may come on continuously (fixed) or flash.
Certain warning lamps may come on in one of two modes. Only by relating the type of lighting to the operating status of the vehicle can it be ascertained whether the situation is normal or whether a fault has occurred.
Other info:
Seat Ibiza. Deactivating airbags
Disabling front passenger airbag If you fit a rear-facing child seat to the front passenger seat, the front passenger airbag must be de-activated. Fig. 25 In the glove compartment: key for enabl ...
Seat Ibiza. Diesel engine 1.4 litre TDI 51 kW (70 bhp)
General engine data a) Cetane-Number (cetane index) = Measure of the combustion power of the diesel Performance figures Weights Trailer weights Engine oil capacity ...
Chevrolet Sonic. Air Vents
Use the air vents located in the center and on the side of the instrument panel to direct the airflow. Move the slats on the center air vents to direct airflow. Turn the knobs on the side air vents ...