Peugeot 208: "ISOFIX" mountings
Peugeot 208 Owners Manual
Your vehicle has been approved in accordance with the new ISOFIX regulation .
The seats, represented below, are fitted with regulation ISOFIX mountings: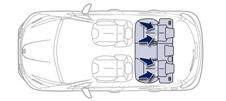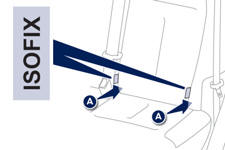 There are three rings for each seat:
- two rings A , located between the vehicle seat back and cushion, indicated by a label,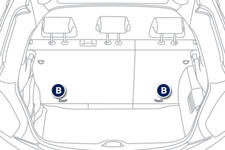 - a ring B behind the seat for fixing the upper strap, referred to as the T op Tether.
This ISOFIX mounting system provides fast, reliable and safe fitting of the child seat in your vehicle.
When fitting an ISOFIX child seat to the left hand rear seat, before fitting the seat, first move the centre rear seat belt towards the middle of the vehicle, so as to avoid the seat interfering with the operation of the seat belt. The ISOFIX child seats are fitted with two latches which are secured on the two rings A. Some seats also have an upper strap, known as the Top Tether, which is attached to ring B. To attach this strap, raise or remove the vehicle seat's head restraint then pass the strap over the backrest. Attach the strap by its hook on ring B and then fully tighten the upper strap.
The incorrect installation of a child seat in a vehicle compromises the child's protection in the event of an accident.
For information regarding the ISOFIX child seats which can be installed in your vehicle, refer to the table showing the locations for installing ISOFIX child seats.
Other info:
Fiat Punto. Fuel consumption
The fuel consumption figures given in the table below are determined on the basis of the homologation tests set down by specific European Directives. The procedures below are followed for measur ...
Mazda 2. Forward Sensing Camera (FSC)
Your vehicle is equipped with a Forward Sensing Camera (FSC). The Forward Sensing Camera (FSC) is positioned near the rearview mirror and used by the following systems. High Beam Control Syst ...
Peugeot 208. 6-speed electronic gear control gearbox
Six-speed electronic gear control gearbox which offers a choice between the comfort of fully automatic operation or the pleasure of manual gear changing. There are two driving modes: - automated m ...