Peugeot 208: Removing a wheel
Peugeot 208 Owners Manual
Parking the vehicle
Immobilise the vehicle where it does not block traffic: the ground must be level, stable and not slippery.
Apply the parking brake, switch off the ignition and engage first gear * to block the wheels.
Check that the parking brake warning lamps in the instrument panel come on. The occupants must get out of the vehicle and wait where they are safe. Never go underneath a vehicle raised using a jack; use an axle stand.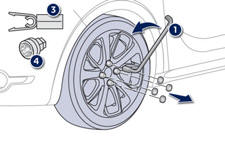 List of operations
Remove the bolt cover from each of the bolts using the tool 3 (according to equipment).
Fit the security socket 4 on the wheelbrace 1 to slacken the security bolt (if fitted).
Slacken the other bolts using the wheelbrace 1 only.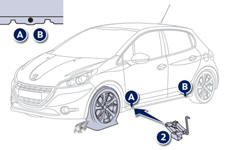 Place the jack 2 in contact with one of the two front A or rear B locations provided on the underbody, whichever is closest to the wheel to be changed.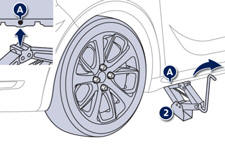 Extend the jack 2 until its base plate is in contact with the ground. Ensure that the centreline of the jack base plate is directly below the location A or B used.
Raise the vehicle until there is sufficient space between the wheel and the ground to admit the spare (not punctured) wheel easily.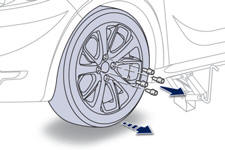 Remove the bolts and store them in a clean place.
Remove the wheel.
Other info:
Fiat Punto. Ceiling lights
FRONT CEILING LIGHT With toggling lens The light will come on automatically when a front door is opened and go out when the door is closed. Press the short side of the lens to switch the lig ...
Renault Clio. Tyre inflation kit
The kit repairs tyres when tread A has been damaged by objects smaller than 4 mm. It cannot repair all types of puncture, such as cuts larger than 4 mm, or cuts in tyre si ...
Chevrolet Sonic. Replacing Airbag System Parts after a Crash
Warning A crash can damage the airbag systems in the vehicle. A damaged airbag system may not work properly and may not protect you and your passenger(s) in a crash, resulting in serious injury o ...