Peugeot 208: Wipers
Peugeot 208 Owners Manual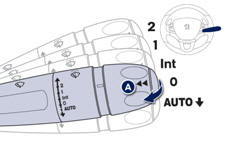 Control stalk A: windscreen wipers
2. Fast wipe.
1. Normal wipe.
Int. Intermittent wipe.
0. Park.
AUTO Automatic wiping.

Single wipe: Brief pull on the stalk
towards. Screenwash: Long pull on stalk towards you.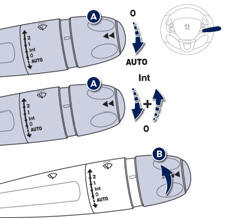 Switching on "AUTO" mode

Briefly push the stalk downwards.
Switching off "AUTO" mode

Briefly push the stalk downwards
or place the stalk in another position: Int, 1 or 2.
Ring B: rear wiper

Other info:
Renault Clio. Tyre inflation kit
The kit repairs tyres when tread A has been damaged by objects smaller than 4 mm. It cannot repair all types of puncture, such as cuts larger than 4 mm, or cuts in tyre si ...
Nissan Micra. Air flow charts
The following charts show the button and dial positions for MAXIMUM AND QUICK heating, cooling or defrosting. The air intake lever should always be in the position for heating and defrosting. ...
Citroen C3. Monitoring
Instrument panel A. With the ignition on, the fuel gauge bars for the fuel remaining should light up. B. With the engine running, the associated low level warning lamp should switch off. ...