Renault Clio: Rear screen wash/wipe
Renault Clio Owners Manual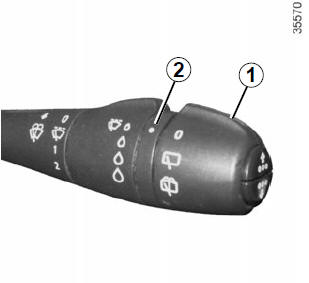 Speed-dependent
timed rear screen wiper
With the ignition on, turn the end of stalk 1 to align mark 2 with the symbol.
Wiping frequency varies with speed.
When working in the engine compartment, ensure that the windscreen wiper stalk is in the park position.

Risk of injury.

Rear screen wash/wipe
With the ignition on, turn the end of stalk 1 to align mark 2 with the symbol.
When the stalk is released, it returns to the rear wipe position.
Special note
If the windscreen wipers are operating or are in automatic mode, the rear screen wiper wipes intermittently when reverse gear is engaged.
Before any action on the windscreen (washing the vehicle, de-icing, cleaning the windscreen, etc.) return stalk 1 to the park position.

Risk of injury or damage.
In freezing or snowy weather, ensure they are not stuck to the windscreen (including the central area located behind the interior rear-view mirror) and the rear screen before starting the wipers (risk of motor overheating).

Check the condition of the wiper blades. You are responsible for their service life:
they must remain clean: clean the blades, windscreen and rear screen regularly with soapy water;
do not use them when the windscreen or rear screen are dry;
free them from the windscreen or rear screen when they have not been used for a long time.
In all cases, replace them as soon as they begin to lose efficiency: approximately once a year.
Before using the rear wiper, check that no object obstructs the travel of the blade.
Do not use the wiper arm to open or close the tailgate.
Other info:
Peugeot 208. 5-speed manual gearbox
Engaging reverse gear Push the gear lever to the right then backwards. Only engage reverse gear when the vehicle is stationary with the engine at idle. As a safety precaution and to facilitate st ...
Mazda 2. Warning Sound is Activated
Lights-On Reminder If lights are on and the ignition is switched to ACC or the ignition is switched off, a continuous beep sound will be heard when the driver's door is opened. NOTE When the ...