Renault Clio: Rear view mirrors
Renault Clio Owners Manual
Door mirrors with electrical adjustment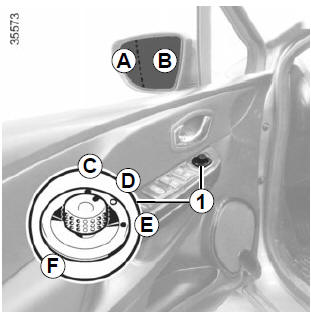 With the ignition on, turn button 1:
position C to adjust the left-hand door mirror;
position E to adjust the right-hand door mirror;
D is the inactive position.
For safety reasons, carry out any adjustments when the vehicle is not being driven.
Heated door mirrors
With the engine running, mirror deicing is activated simultaneously with rear screen de-icing/demisting.
Folding door mirrors (depending on vehicle)
Move button 1 to position F: the door mirrors fold away. To reset them for driving, return to position C, D or E.
If you manually fold the door mirrors, before setting them to the driving position (C, D, E), you must position control 1 to F
The driver's door mirror may have two clearly defined zones. Zone B shows what can normally be seen in an ordinary rear view mirror.

Zone A increases rear side visibility.

Objects in zone A look much further away than they really are.
Interior rear view mirror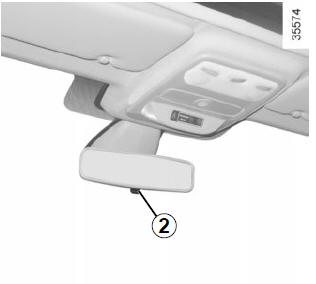 Its position can be adjusted.
Rear-view mirror with lever 2
For night driving, to avoid being dazzled by the headlights of the car behind you, flip the small lever 2 located behind the rear view mirror.
Rear view mirror without lever 2
The rear view mirror darkens automatically at night if you are being followed by a vehicle with its lights on.
Other info:
Nissan Micra. CD care and cleaning
Handle a CD by its edges. Do not bend the disc. Never touch the surface of the disc. Always place the discs in the storage case when they are not being used. To clean a disc, wipe the s ...
Fiat Punto. Air cleaner
REPLACING THE FILTER 1.28V version Loosen the screws on the side and on the air cleaner cover, remove the cover (A) and remove the filtering element (B) to be replaced. 1.3 Multijet versio ...
Chevrolet Sonic. SiriusXM Radio Messages
UPDATING: The encryption code in the receiver is being updated, and no action is required. This process should take no longer than 30 seconds. NO SIGNAL: The system is functioning correctly, but th ...