Renault Clio: Renault anti-intruder device (raid)
Renault Clio Owners Manual
Operating principle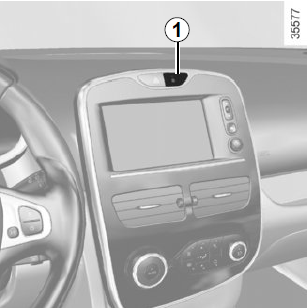 After the vehicle is started, the system automatically locks the doors when you are driving at approximately 6 mph (10 km/h) and over.
The door can be unlocked:
by pressing the door unlocking button 1.
by opening a front door (vehicle stationary).
NB: if a door is opened or closed, it will automatically lock again when the vehicle reaches a speed of 6 mph (10 km/h).
Activating/deactivating the function
With the engine running, press button 1 for approximately five seconds until you hear a beep.
Operating faults
If you experience an operating fault (no automatic locking, the indicator light incorporated in button 1 does not light up when trying to lock the opening elements, etc.), firstly check that the opening elements are properly closed.
If they are properly closed, contact an authorised dealer.
Driver's responsibility If you decide to keep the doors locked when you are driving, remember that it may be more difficult for those assisting you to gain access to the passenger compartment in the event of an emergency.
Other info:
Renault Clio. Rear parcel shelf
Removal Lower the rear headrests; unhook the two cords 1 from the boot door; lift the parcel shelf 2 to half height in order to unclip it (movement A); push the shelf in (B m ...
Mazda 2. i-ELOOP
i-ELOOP is a regenerative braking system. When you depress the brake pedal or use engine braking, the kinetic energy that occurs is converted to electrical energy by the power generator and the ...