Renault Clio: To refit a wheel
Renault Clio Owners Manual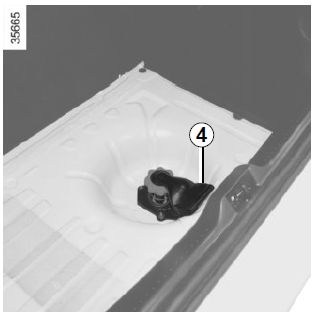 A wheel size larger than 15" cannot be installed under the vehicle.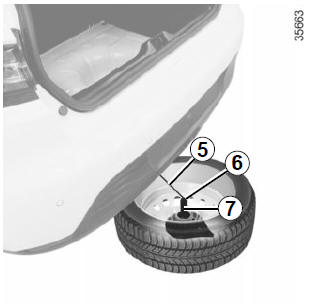 To carry out this operation, the cable must be unwound.
If the cable has been wound back up on its own, unwind it again as follows:
pull the handle to unwind the cable;
press the button located under handle 4 to hold the unwound cable, then guide it down;
recover the cable from underneath the vehicle.
You may refit the wheel.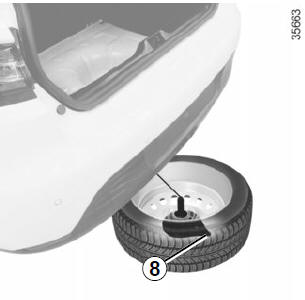 After changing a wheel, position the replaced wheel on support 7, with the valve facing the ground. Clip cable 5 in its housing 6, then push the wheel under the boot.
Ensure that tab 8 is positioned towards the rear of the vehicle.
Position yourself behind the vehicle and pull handle 4 to raise the wheel until it is anchored under the vehicle.
Make sure that no-one has their fingers close to the cable when you move the handle: risk of injury.
Other info:
Peugeot 208. Filling
A self-adhesive label on the inner face of the filler flap reminds you of the type of fuel to use depending on your engine. Additions of fuel must be of at least 5 litres to be registered by the ...
Renault Clio. Headlight adjustment
On vehicles fitted with this function, control A allows you to adjust the height of the beams according to the load. Turn control A downwards to lower the headlights and upwards to raise the ...