Renault Clio: To refit a wheel
Renault Clio Owners Manual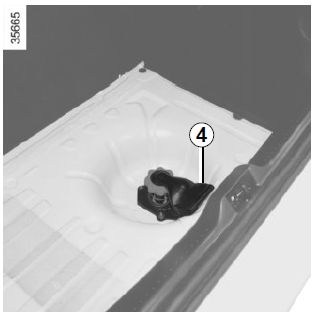 A wheel size larger than 15" cannot be installed under the vehicle.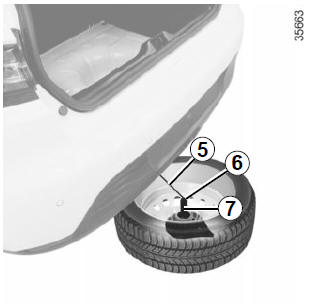 To carry out this operation, the cable must be unwound.
If the cable has been wound back up on its own, unwind it again as follows:
pull the handle to unwind the cable;
press the button located under handle 4 to hold the unwound cable, then guide it down;
recover the cable from underneath the vehicle.
You may refit the wheel.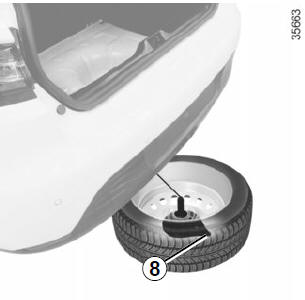 After changing a wheel, position the replaced wheel on support 7, with the valve facing the ground. Clip cable 5 in its housing 6, then push the wheel under the boot.
Ensure that tab 8 is positioned towards the rear of the vehicle.
Position yourself behind the vehicle and pull handle 4 to raise the wheel until it is anchored under the vehicle.
Make sure that no-one has their fingers close to the cable when you move the handle: risk of injury.
Other info:
Seat Ibiza. Stowing luggage
Loading the luggage compartment All luggage and other loose objects must be safely secured in the luggage compartment. Unsecured objects which shift back and forth could affect safety or driving ch ...
Peugeot 208. Maintenance
Before doing anything under the bonnet, deactivate the Stop & Start system to avoid any risk of injury resulting from automatic operation of START mode. This system requires a battery with a sp ...
Peugeot 208. Automatic operation
Select position D for automatic changing of the four gears. The gearbox then operates in auto-adaptive mode, without any intervention on the part of the driver. It continuously selects the most sui ...