Renault Clio: To refit a wheel
Renault Clio Owners Manual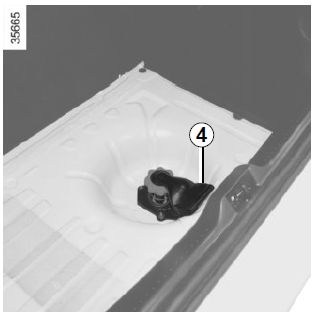 A wheel size larger than 15" cannot be installed under the vehicle.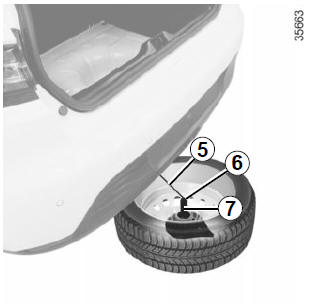 To carry out this operation, the cable must be unwound.
If the cable has been wound back up on its own, unwind it again as follows:
pull the handle to unwind the cable;
press the button located under handle 4 to hold the unwound cable, then guide it down;
recover the cable from underneath the vehicle.
You may refit the wheel.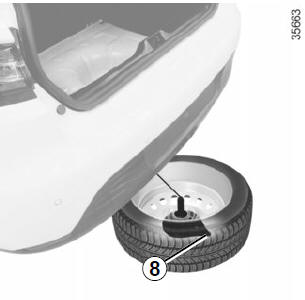 After changing a wheel, position the replaced wheel on support 7, with the valve facing the ground. Clip cable 5 in its housing 6, then push the wheel under the boot.
Ensure that tab 8 is positioned towards the rear of the vehicle.
Position yourself behind the vehicle and pull handle 4 to raise the wheel until it is anchored under the vehicle.
Make sure that no-one has their fingers close to the cable when you move the handle: risk of injury.
Other info:
Seat Ibiza. General notes
The pollen filter The pollution filter (a combined particulate filter and active carbon filter) serves as a barrier against impurities in the ambient air, including dust and pollen. For the air c ...
Honda Fit. Important Safety Precautions
■ Always wear your seat belt A seat belt is your best protection in all types of collisions. Airbags are designed to supplement seat belts, not replace them. So even though your vehicle is e ...
Skoda Fabia. Service Interval Display
A message concerning the kilometres and days remaining until the next service is due is shown for about 10 seconds after the ignition is switched on until the end of the service interval is reached. ...