Seat Ibiza: Checking fluid levels
Seat Ibiza Owners Manual
From time to time, the levels of the different fluids in the vehicle must be checked. Never fill with incorrect fluids, to do so may cause serious damage to the engine.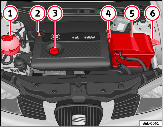 Fig. 177 Diagram for the location of the various elements
1.
Radiator expansion tank
2.
Engine oil dipstick.
3.
Engine oil filler cap
4.
Brake fluid reservoir
5.
Battery
6.
Windscreen washer fluid container
The checking and replenishment of the service fluids are carried out on the components mentioned above. These operations are described in the.
Overview
Further explanations, instructions and restrictions on the technical data are contained as of.

Note
The layout of parts may vary according to engine.
Other info:
Chevrolet Sonic. How Does an Airbag Restrain?
In moderate to severe frontal or near frontal collisions, even belted occupants can contact the steering wheel or the instrument panel. In moderate to severe side collisions, even belted occupants ...
Chevrolet Sonic. Tire Pressure
Tires need the correct amount of air pressure to operate effectively. Caution Neither tire underinflation nor overinflation is good. Underinflated tires, or tires that do not have enough air, can ...