Chevrolet Sonic: Steering Wheel Controls
Chevrolet Sonic Owners Manual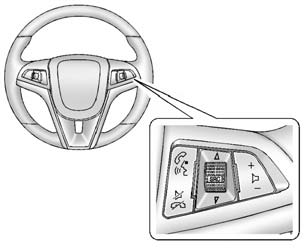 Some audio steering wheel controls could differ depending on the vehicle's options. Some audio controls can be adjusted at the steering wheel.

/


(Push to Talk): For
vehicles with Bluetooth or OnStar, press to interact with those systems. See Bluetooth (Voice Recognition) or Bluetooth (Overview) or Bluetooth (Infotainment Controls) or OnStar Overview.

/


(Mute/End Call): Press to reject an
incoming call, or end a current call. Press to silence the vehicle speakers while using the infotainment system. Press again to turn the sound on.
For vehicles with OnStar or Bluetooth systems, press to reject an incoming call, or end a current call.

SRC


(Source): Press to select an audio
source.
Use to toggle up or down to select the next or previous favorite radio station or CD/MP3 track.

(Volume): Press + or − to increase
or decrease the volume.
Other info:
Peugeot 208. Opening
Open the left hand front door. Pull the release lever, located at the bottom of the door aperture, towards you. Lift the safety catch and raise the bonnet. Do not open the bonnet under ...
Ford Fiesta. Transmission
Manual Transmission Using the Clutch Note: Failure to fully depress the clutch pedal to the floor may cause increased shift efforts, prematurely wear transmission components or damage the transmission ...
Nissan Micra. Antenna
The antenna can be folded down toward the rear of the vehicle 1 . The antenna cannot be shortened but can be folded down or removed. When you need to remove the antenna, turn the antenna rod ...