Chevrolet Sonic: Steering Wheel Controls
Chevrolet Sonic Owners Manual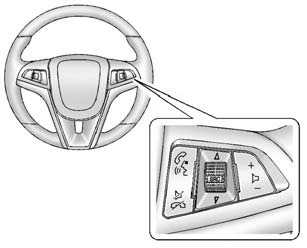 Some audio steering wheel controls could differ depending on the vehicle's options. Some audio steering wheel controls can be adjusted at the steering wheel.

/


: Press to interact with the available
Bluetooth or OnStar systems.

/


: Press to decline an incoming call,
to end speech recognition, or to end a current call. Press to silence the vehicle speakers while using the infotainment system. Press again to turn the sound on.
For vehicles with OnStar or Bluetooth systems, press to reject an incoming call, or end a current call.

SRC


: Press to select an audio source.
Toggle up or down to select the next or previous favorite radio station or CD/MP3 track.
+

−: Press + or − to increase or
decrease the volume.
See Steering Wheel Controls.
Other info:
Mazda 2. Rear Seat
Split/One-piece Folding the Seatback By lowering the rear seatback(s) the luggage compartment space can be expanded. WARNING Do not drive the vehicle with occupants on folded down seatback(s) o ...
Nissan Micra. Steering wheel
TILT OPERATION Pull the lock lever down 1 and adjust the steering wheel up or down 2 to the desired position. Push the lock lever up 1 to lock the steering wheel in place. WARNING ...
Peugeot 208. Manual controls
The wipers are controlled directly by the driver. Model without AUTO wiping Model with AUTO wiping Windscreen wipers Wiping speed: Rear wiper Rear wiper selection ring: park, intermi ...