Chevrolet Sonic: Why Safety Belts Work
Chevrolet Sonic Owners Manual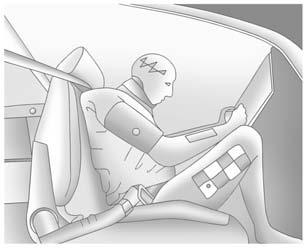 When riding in a vehicle, you travel as fast as the vehicle does. If the vehicle stops suddenly, you keep going until something stops you. It could be the windshield, the instrument panel, or the safety belts!
When you wear a safety belt, you and the vehicle slow down together. There is more time to stop because you stop over a longer distance and, when worn properly, your strongest bones take the forces from the safety belts. That is why wearing safety belts makes such good sense.
Other info:
Peugeot 208. Special position of the windscreen wipers
This position permits release of the windscreen wiper blades. It is used for cleaning or replacement of the blades. It can also be useful, in winter, to detach the blades from the windscreen. ...
Skoda Fabia. Child seat
Children are generally safer on the rear seats than on the front passenger seat. In contrast to adults, the muscles and bone structure of children are not yet fully developed. Thus children are e ...
Fiat Punto. If an exterior light burns out
For the type of bulb and power rating, see "When needing to change a bulb". FRONT LIGHT UNITS The front light units contain: sidelights, dipped beam, main beam and direction indicator bulbs. ...