Fiat Punto: Blades
Fiat Punto Owners Manual
Periodically clean the rubber part using special products; TUTELA PROFESSIONAL SC 35 is recommended.
If the rubber blades are bent or worn they should be replaced. In any case they should be changed once a year.
A few simple notions can reduce the possibility of damage to the blades:
if the temperature fall below zero, make sure that ice has not frozen the rubber against glass. If necessary, thaw using an antifreeze product;
remove any snow from the glass: in addition to protecting the blades, this prevents effort on the motor and overheating;
do not operate the windscreen and rear window wipers on dry glass.

Driving with worn wiper
blades is a serious hazard, because visibility is reduced in bad weather.
Changing the windscreen wiper blades
Proceed as follows: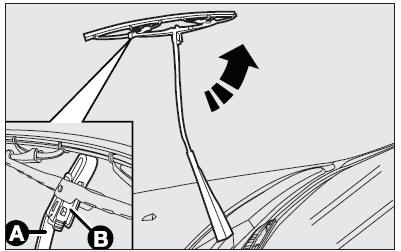 Changing the rear window blade
Proceed as follows:
raise the cover(A) and remove the arm from the car, slackening the nut (B) that fastens it to the pivot pin;
fit the new arm, positioning it correctly, and fully tighten the nut;
lower the cover.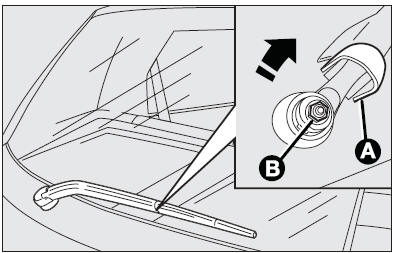 Other info:
Mazda 2. Bluetooth® Audio (Type C/Type D)
Applicable Bluetooth ® specifi cation (Recommended) Ver. 1.1/1.2/2.0 EDR/2.1 EDR/3.0 (conformity) Response profi le A2DP (Advanced Audio Distribution Profi le) Ver. 1.0/1.2 AVRCP (Audio/V ...
Honda Fit. What to Do If
The ignition switch does not turn from to . Why? ● The steering wheel may be locked. ● Try to turn the steering wheel left and right while turning the ignition key. The i ...
Peugeot 208. Automated mode
Following use of the sequential mode, select position A to return to the automated mode. AUTO and the gear engaged appear in the instrument panel. The gearbox then operates in auto-adaptive mod ...