Fiat Punto: Engine oil
Fiat Punto Owners Manual
Checking engine oil
Check the oil level a few minutes (about 5) after the engine has stopped, with the car parked on level ground.
Check that the level is within the MIN and MAX marks on the dipstick.
The interval between the MIN and MAX marks corresponds to about one litre of oil.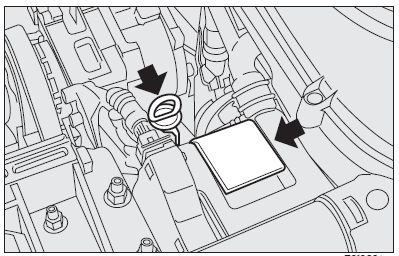 1.28V versions
Topping up engine oil
If the oil level is near or even below the MIN mark, add oil through the filler neck, until reaching the MAX mark. Oil level shall never exceed the MAX mark.
IMPORTANT If a routine check reveals that the oil level is above the MAX mark, contact Fiat Dealership to have the correct level restored.
IMPORTANT After adding or changing the oil, let the engine turn over for a few seconds and wait a few minutes after turning it off before you check the level.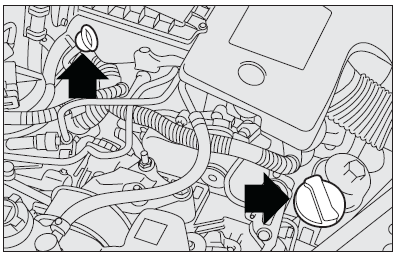 1.3 Multijet versions
Engine oil consumption
Max engine oil consumption is usually 400 grams every 1000 km.
When the car is new, the engine needs to run in, therefore the engine oil consumption can only be considered stabilised after the first 5000 - 6000 km.
IMPORTANT The oil consumption depends on driving style and the conditions under which the car is used.
IMPORTANT Do not add oil with specifications other than that already in the engine.

When the engine is hot,
take care when working inside the engine compartment to avoid burns. Remember that when the engine is hot, the fan may cut in: danger of injury. Scarves, ties and other loose clothing might be pulled by moving parts.

Used engine oil and
filter contain harmful substances for the environment.

Contact Fiat Dealership to have the oil and filter changed.
Other info:
Chevrolet Sonic. Accessories and Modifications
Adding non-dealer accessories or making modifications to the vehicle can affect vehicle performance and safety, including such things as airbags, braking, stability, ride and handling, emissions s ...
Peugeot 208. Deadlocking
Deadlocking renders the exterior and interior door controls inoperative. It also deactivates the manual central control button. Therefore, never leave anyone inside the vehicle when it is deadlocke ...
Fiat Punto. Trip computer
The "Trip computer" displays information relating to the operating status of the car. This function comprises the "General trip", concerning the complete mission of the car and "Trip B" ...