Fiat Punto: Front seat belt height adjustment
Fiat Punto Owners Manual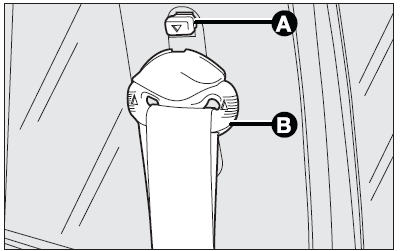 Always adjust the height of the seat belt to fit the person wearing it. This precaution could greatly reduce the risk of injury in case of collision.
Correct adjustment is obtained when the belt passes half way between the end of the shoulder and the neck.
Four different adjustments in height are provided.
To adjust, press button (A) and lower or raise the grip (B).

Make the height
adjustment when the car is stationary.

After adjustment,
always check that the slider is anchored in one of the positions provided. To do this, with the button (A) released, exert a further pressure to allow the anchor device to catch if release did not take place at one of the preset positions.
Other info:
Renault Clio. Interior trim maintenance
A well-maintained vehicle will last longer. It is therefore recommended to maintain the interior of the vehicle regularly. A stain should always be dealt with swiftly. Whatever type of stain ...
Skoda Fabia. Cockpit
Overview Fig. 18 Cockpit Door opening lever Electrical power windows Electric exterior mirror adjustment Air outlet vents Parking ticket holder Operating stalk: Turn signal li ...
Fiat Punto. Installing the tow hook
The towing device should be fastened to the body by specialised personnel according to any additional and/or integrative information supplied by the Manufacturer of the device. The towing device ...